Ailis Tweed-Kent Says Executive Board Will Give Her Access to a Brain Trust of Leaders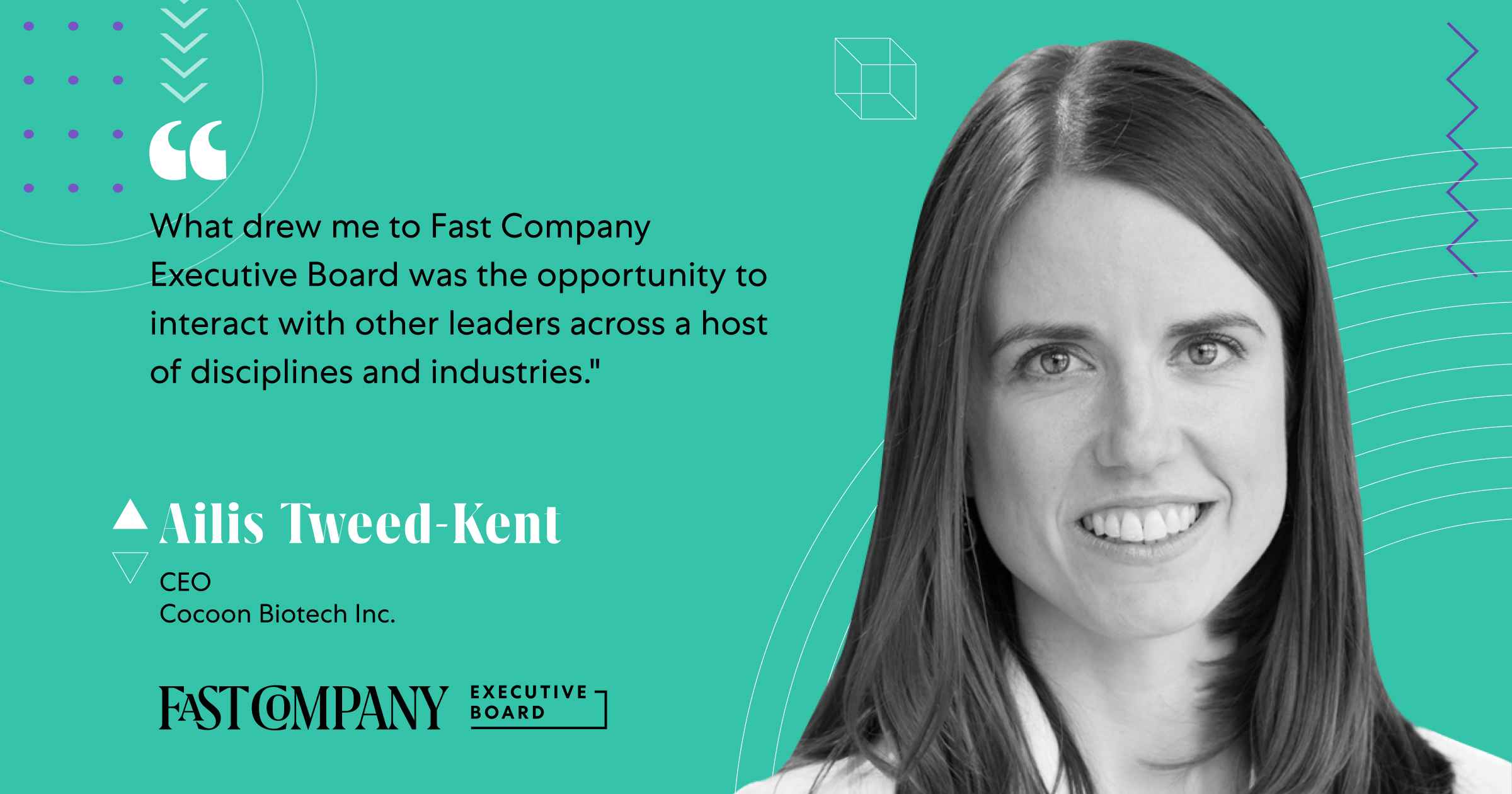 Ailis Tweed-Kent is a physician, an entrepreneur, and an innovator with keen interests in medicine, engineering, and sustainability. All of that comes together at Cocoon Biotech, a company she founded in 2013 to leverage silk as a biomaterial for use in consumer, medical, and industrial products.
Before med school, Tweed-Kent earned a degree in chemical engineering and says she was "looking for ways to get back to the intersection of engineering and medicine." Her clinical work provided the initial inspiration for Cocoon: she saw many patients with arthritis pain and thought that silk, routinely used in surgical sutures, could potentially be deployed as an injectable to deliver drugs into the joint space. But she found that investors were not enthusiastic about the osteoarthritis market. So Tweed-Kent shifted her focus to ophthalmology. "We were also thinking that we could use silk as a lubricant or surface hydrating molecule," she says. "Since then, we've done a lot of work to develop our products and we've discovered even more exciting properties of silk."
While its ophthalmology product (eye drops for contact lens wearers) must still go through clinical testing, Cocoon is introducing its first consumer dermatology products — sunscreen, lotion, and serum — in January of 2022. "We're using this ancient biomaterial that is safe for you and safe for the environment," she says. "If you look at the majority of cosmetic products, or just even general consumer dermatology products on the market today, most of them incorporate synthetic petrochemicals. Our differentiating plan is also to educate consumers on what they're putting on their bodies, and what these chemicals do."
Cocoon, which raised $7.5 million in venture capital in the middle of the pandemic, is manufacturing all of its products at an incubator in Boston with a team of scientists and marketing and branding consultants. That was a challenge last year since remote work was not an option for Cocoon; employees had to be in the lab, doing hands-on work with materials. "We were fortunate because we have our own space, and we only have two employees who come into the lab," says Tweed-Kent. "They could coordinate to not be there at the same time and that enabled our work to be continued and completed."
"Cross-collaborative conversation and learning what's unique to your industry versus what's common to and shared across all industries is something really interesting. And I think that the [Fast Company] Executive Board provides a platform for that growth and learning and knowledge."
Eventually, Tweed-Kent will seek out manufacturing partners as the company expands into other sectors. But for now, she thinks it's valuable to be involved with every step of the manufacturing and product launch process. Most CEOs of life sciences companies are not involved in commercialization of products since it typically takes ten years to bring a pharmaceutical product to market. With her consumer dermatology products, "I have the unique opportunity to be a commercial-facing CEO while also building science products at the same time," she says.
Most of her time is spent on Cocoon, but Tweed-Kent still works as an attending physician at Massachusetts General Hospital's urgent care department one day a week. "I was actually a little worried investors would tell me, 'you need to stop practicing medicine and focus solely on the company.'" she says. "And much to my surprise, they said the opposite — 'we don't want you to stop practicing' because I think I have my finger on the pulse of what's happening in healthcare." And ultimately, Cocoon will be in the healthcare space with eye drops as well as other products that are in the pipeline, such as surgical gels, coatings, drug delivery formulations, and cell growth media.
As she continues on her entrepreneurial journey, Tweed-Kent thinks it's important for her to gain perspective from peers in diverse industries. "What drew me to Fast Company Executive Board was the opportunity to interact with other leaders across a host of disciplines and industries," she says. Frequently, entrepreneurs find themselves immersed in sector-specific silos, which can be helpful in many ways. "But the cross-collaborative conversation and learning what's unique to your industry versus what's common to and shared across all industries is something really interesting," says Tweed-Kent. "And I think that the Executive Board provides a platform for that growth and learning and knowledge."
Tweed-Kent also hopes to contribute content through Fast Company Executive Board. "I'm really interested in the intersection of sustainability and capitalism," she says. "Capitalism and sustainability are not necessarily antagonistic to one another. You can find creative ways to sell products, maybe even sell less product, but do it in a way that drives growth of your organization."