Fast Company Executive Board Connections Help Harold Hughes Navigate Business Challenges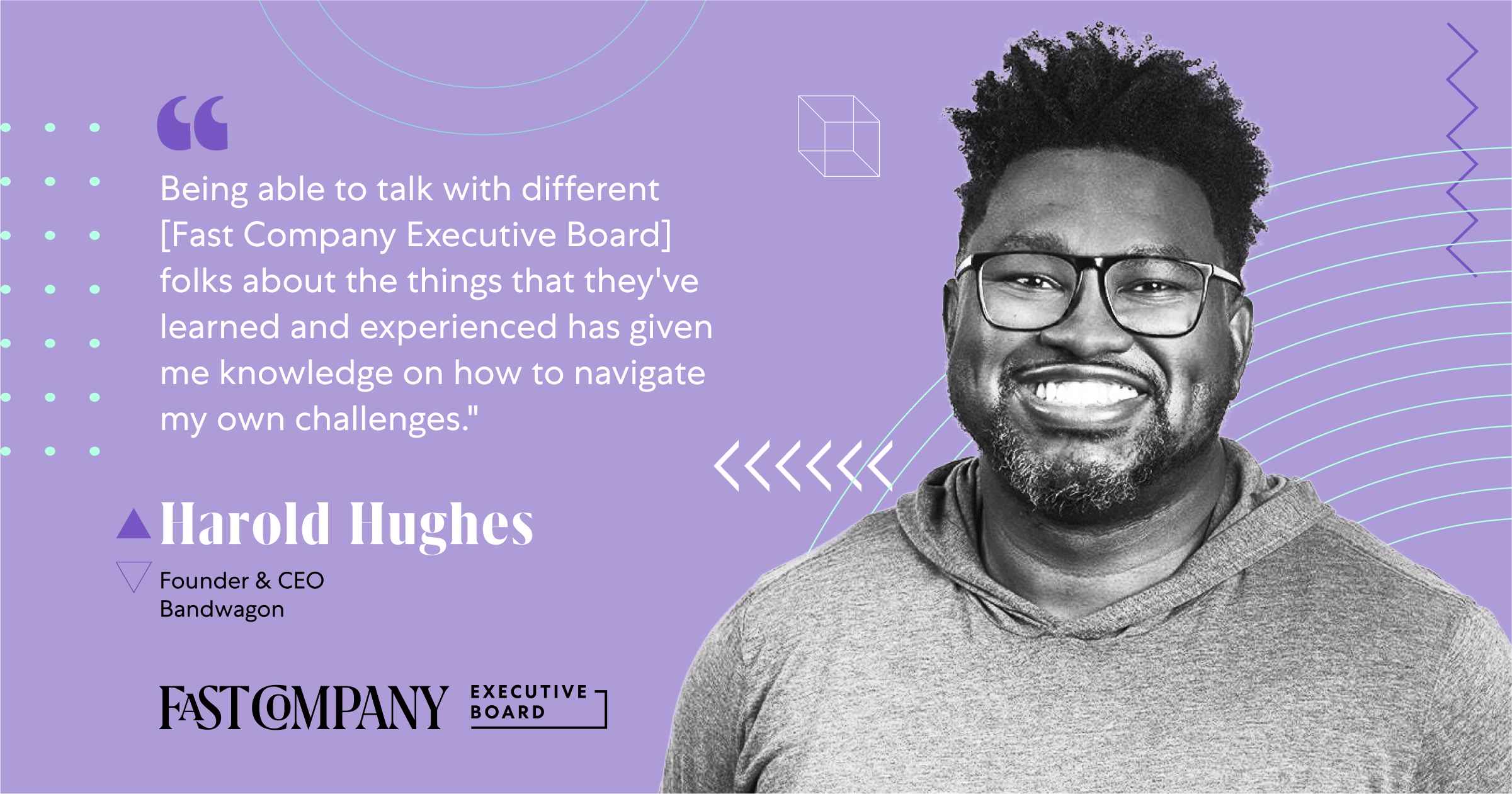 It was his love of live events that first led Harold Hughes to start Bandwagon, an event technology company that enhances the fan experience. "At a Saturday afternoon game, or listening to a live band, or at a Broadway show, you have people from all different backgrounds, regions, education levels, all just enjoying that live event together," Hughes says.
He had been working in the corporate world for a decade when he decided to go back to school for his MBA. As a student, Hughes came up with the idea for Bandwagon, which was originally conceived in 2016 as a ticket marketplace that allowed fans to buy and sell tickets to live events. "We ended up pivoting that business, not because we weren't making money, but because it just wasn't a big enough business," says Hughes.
So in 2018, the company began using blockchain technology to offer sports teams and event organizers analytics that would help them better identify and understand their attendees. In doing so, Bandwagon sought to address a perennial problem of event organizers who sell advertising and sponsorships based on the preferences of people who buy tickets: What happens when that ticket is resold to someone with different preferences? "It's not a big issue if it only happens once, but if it happens 10,000 times, now you've got suboptimal marketing and you've got an unhappy sponsor," says Hughes. The pivot was successful and Hughes expected Bandwagon to post $1 million in revenue in 2020. "In March, we had two NBA teams and an entire soccer league we were about to sign," he says. "And then everything stopped."
Hughes predicted that the pandemic would put big live events on hold for the duration of 2020, but felt in his gut that Americans would not be content to sit at home for months. He went to his board and suggested buying a ticketing company that would allow Bandwagon to partner with organizers of online and smaller live events. "We acquired a company called IdealSeat at the end of March 2020," says Hughes. "And that's how we continued to grow." That acquisition led Hughes to an even greater market opportunity that Bandwagon will pursue next year.
"The best thing [about Fast Company Executive Board] is you've got a group of people form different industries at different stages of their careers."
Fans want unique ways to engage with the artists and teams they love, Hughes reckoned. At the same time, Bandwagon had experience with blockchain technology and Hughes knew that NFT business models were becoming more and more popular. What if fans could take pictures and record videos at events, use Bandwagon's technology as "proof of experience," and mint that content as NFTs that would generate revenue? That's the new business model that Bandwagon is currently working on. The technology, says Hughes, will index fan content, filter out the highest quality items, and assign a royalty to the artist when the picture or video is sold as an NFT. "So we're really unlocking a goldmine sitting on users, devices, and millions and millions of pictures," says Hughes. In 2022, he says he'll focus on strategic partnerships for that new offering. "I'm spending my energy identifying organizations that are excited about learning more about how they can bridge the gap between their fans, as well as figure out ways to capitalize on more revenue opportunities."
In addition to Bandwagon, Hughes is heavily involved as a board member with Women@Austin, an organization that supports women entrepreneurs working to scale their companies. He's also an angel investor through the venture firm Republic and has a portfolio of 17 investments, 90% of which are women-led. Among his investments are Partake Foods, which is also backed by Jay-Z and Rihanna, and Goodr, which is helping to fight food insecurity.
As a member of Fast Company Executive Board, Hughes says "the best thing is you've got a group of people form different industries at different stages of their careers. Being able to talk with different folks about the things that they've learned and experienced has given me knowledge on how to navigate my own challenges." That could mean anything from advice on hiring and firing, to different perspectives on how to make sure that team members feel engaged and supported while working remotely during COVID. He also received some very specific advice on parental leave policies from fellow member Melissa Barash. "She's an operator and a person who thinks strategically," says Hughes. "So that's a unique relationship that I was able to make through Fast Company Executive Board."