Fast Company Executive Board Provides Ben Nader With a Content Marketing Outlet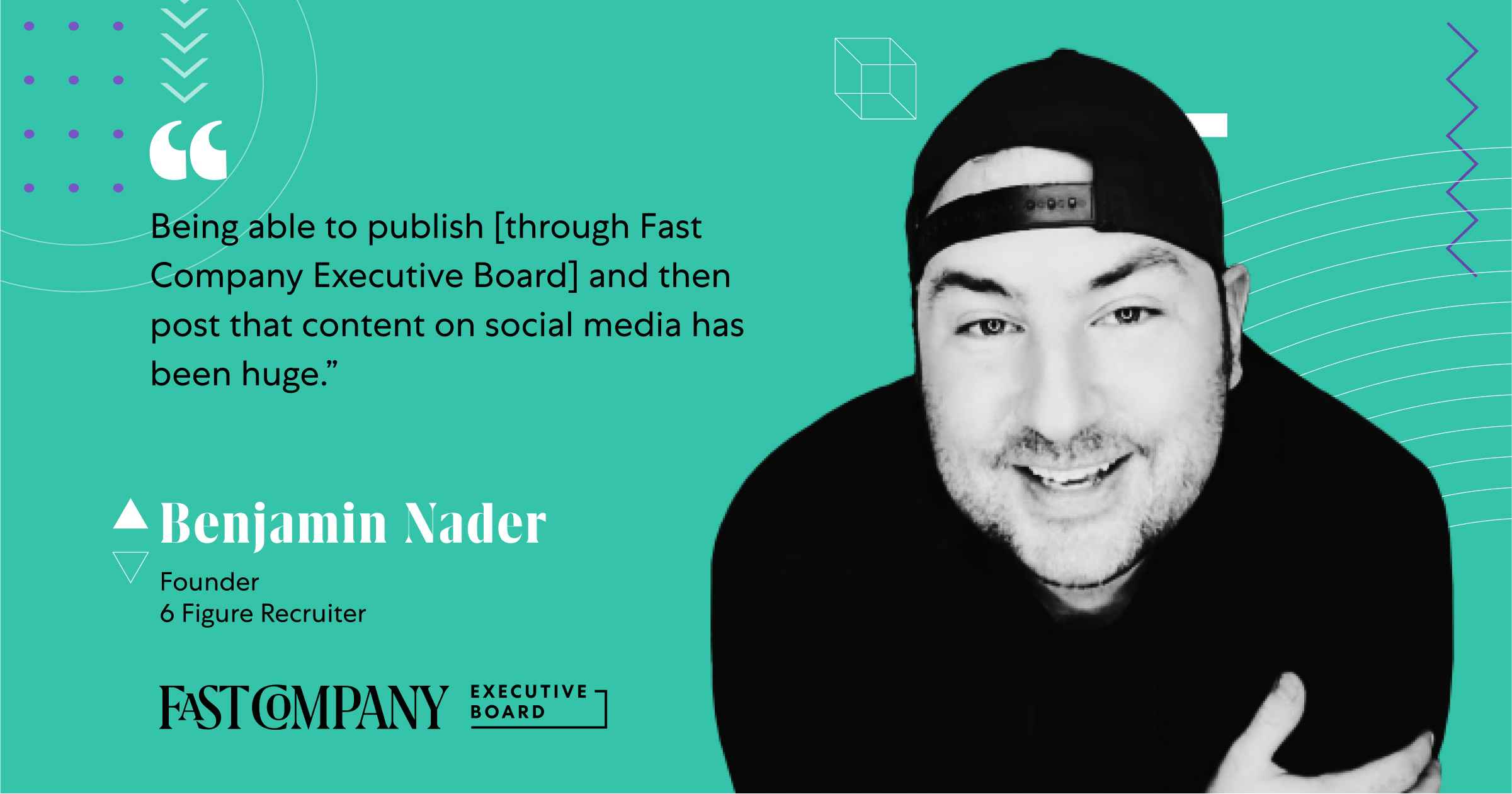 Ben Nader knew very little about the recruiting industry, but that didn't stop him from starting his own agency, Seattle Search Solutions. He had worked as a construction project manager and in sales at a couple of tech companies, including Microsoft, but found the work boring. "What inspired me was my own freedom and wanting to get out of the corporate nine to five," Nader says. "That, plus my sales background, blended well with the concept of matchmaking and helping people get hired at different companies."
He started a Facebook group called The Seattle Job Network where job seekers and hiring managers connected. Eventually he shifted to more traditional marketing such as cold calling. He found candidates on Indeed, Craigslist, and other job groups like the one had created.
In the recruiting industry, there are many "layers to the cake", Nader says, and his niche is light industry companies that need employees to work in warehouse, logistics, electrical and building supply, transportation, administrative, and clerical roles. "The companies just don't have the time, the wherewithal, or the knowledge so if we reach out to them and say 'we can handle this for you,' they'll go for it." During the pandemic, Nader says, things are a bit more difficult on the candidate side, but easier on the client side, because "they're begging and pleading for candidates. And the way I see it, when it's a candidate's market, it's a recruiter's market."
"I'm really excited to be a part of [Fast Company Executive Board]. My next move is to start writing articles."
While Nader's agency, which he started in 2017, was successful, he wanted another income stream. So in 2019, he launched 6 Figure Recruiter, an online program that teaches others how to start and grow recruiting companies. Again, he created a Facebook group (which now has 5,000+ members) and used his YouTube channel to promote his course. His clients are mostly people who want to start lifestyle businesses. "We want to teach people how to create a six-figure income by recruiting," he says. "Right now, about 20 people a month are doing the program." The course consists of Zoom calls and modularized content that's pre-recorded.
During COVID, Nader says, his recruiting agency went dark for three months, but then began to pick up. And 6 Figure Recruiter sales spiked. "I see more and more people wanting to start their own business," says Nader. "It's just been a huge theme of 2020. People flocked to the program." But growth has meant that Nader now faces the challenges of scaling the business. "Growing means bringing on help and hiring," he says. "And so I've got someone handling sales, and I'm probably going to be bringing in someone to help me on the delivery side as well."
As a business owner who relies on content creation to drive sales, Nader was attracted to the publishing component of Fast Company Executive Board membership. "We have no paid advertisement whatsoever," he says. "It's built entirely on content that I create. Being able to publish [through Fast Company Executive Board] and then post that content on social media has been huge. I'm really excited to be a part of this." He says that he's received good feedback from his Expert Panel contributions and that he believes the content has drummed up clients for his businesses. "My next move is to start writing articles," he says.