Michael Margolis Says Fast Company Executive Board Attracts Members With a Shared Passion for Innovation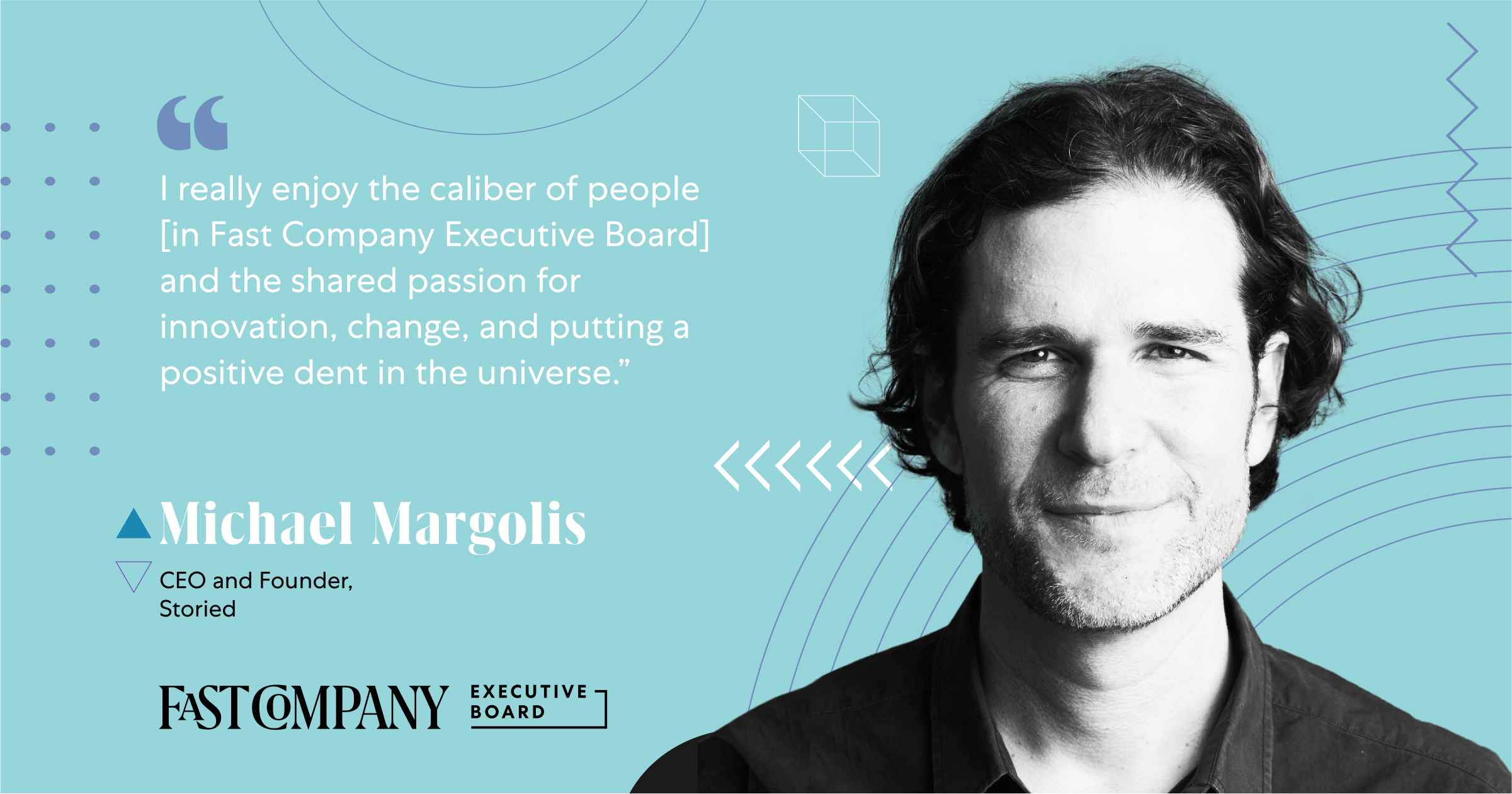 For twenty years — since long before "storytelling" became a corporate buzzword — Michael Margolis has been helping companies and their leaders craft strategic narratives that ease the often rocky path of innovation. "The story of innovation is the hardest to tell because by definition, you're overstepping," says Margolis. "How do you tell the story of the new without making people in the old get defensive and adversarial? That's my obsession."
Margolis thinks that companies in the midst of transformation spend far too much time trying to shift external perceptions via marketing and public relations. He says changing a narrative via storytelling should start internally. His company, Storied, works with high growth companies that are undergoing a shift or inflection point and that need to help their employees understand a new vision. Currently, for instance, Margolis is working with a Series D-funded company that is in the process of transitioning from product to platform and a start up in the DevOps (developer operations) space that needs help scaling its culture in the wake of launching a breakthrough new product. To make these kinds of transformations as smoothly as possible, companies need a "unified story," says Margolis. "If you can get the story straight, it will be your greatest force multiplier. And if you don't get the story straight, it's your biggest drag coefficient."
Storied is not Margolis's first startup. When he was 22, he co-founded a nonprofit focused on bridging the digital divide between inner city adults and high tech jobs. As a social entrepreneur funded by high-profile foundations, he had "a lot of quick and early success, and then an epic failure by the age of 24." In retrospect, he considers that first venture an earlier incarnation of the work he does today. "It was one of the first strategic storytelling firms in the world," he says.
"I can't tell you the outpouring of congratulations and outreach that I received from people in my network [when I joined Fast Company Executive Board]."
In subsequent years, Margolis continued his entrepreneurial journey, and his approach to storytelling evolved. Initially, he served traditional industries that were struggling with change management, and then moved on to work with companies grappling with the advent of social media and the way it impacted marketing and storytelling. "The third wave started around 2015, and to me, that's really the age of disruption," says Margolis. That's when Storied began working with tech companies that were experiencing hypergrowth, such as Facebook, Google, Shopify, and Uber.
"We're not like a traditional consulting firm," says Margolis."We become consiglieres, working inside an executive leadership team or senior leadership team through the entire journey." An engagement might last six to 18 months, during which Margolis and his team facilitate a myriad of conversations and workshops designed to create the building blocks for a narrative. The idea is to "create the psychological and emotional safety for people to want to go on a journey that is filled with speculation, because you're building and creating and doing things that have never been done before."
When the pandemic hit in March 2020, Margolis saw 90% of Storied's business disappear. "Every corporation in the world went into business continuity lockdown," he recalls. "But I had a thesis that with disruption, everyone's going to need a new story and with COVID, disruption just got democratized and people were going to be needing our support." He was spot on. Storied's big-tech client base experienced surge demand, headcount burgeoned, new ways of working took hold, and human connection became more important than ever. Those changes triggered the need for new internal narratives, which in turn fuelled Storied's 50% annual revenue growth.
Margolis says of becoming a member of Fast Company Executive Board, "I can't tell you the outpouring of congratulations and outreach that I received from people in my network." As someone whose first business was covered by Fast Company, he feels a deep emotional connection to the brand. Margolis contributes to Expert Panels and has also participated in monthly meetups. "I really enjoy the caliber of people [in Fast Company Executive Board] and the shared passion for innovation, change, and putting a positive dent in the universe."