Fast Company Executive Board Provides Amaya Weddle With a Respected Thought Leadership Outlet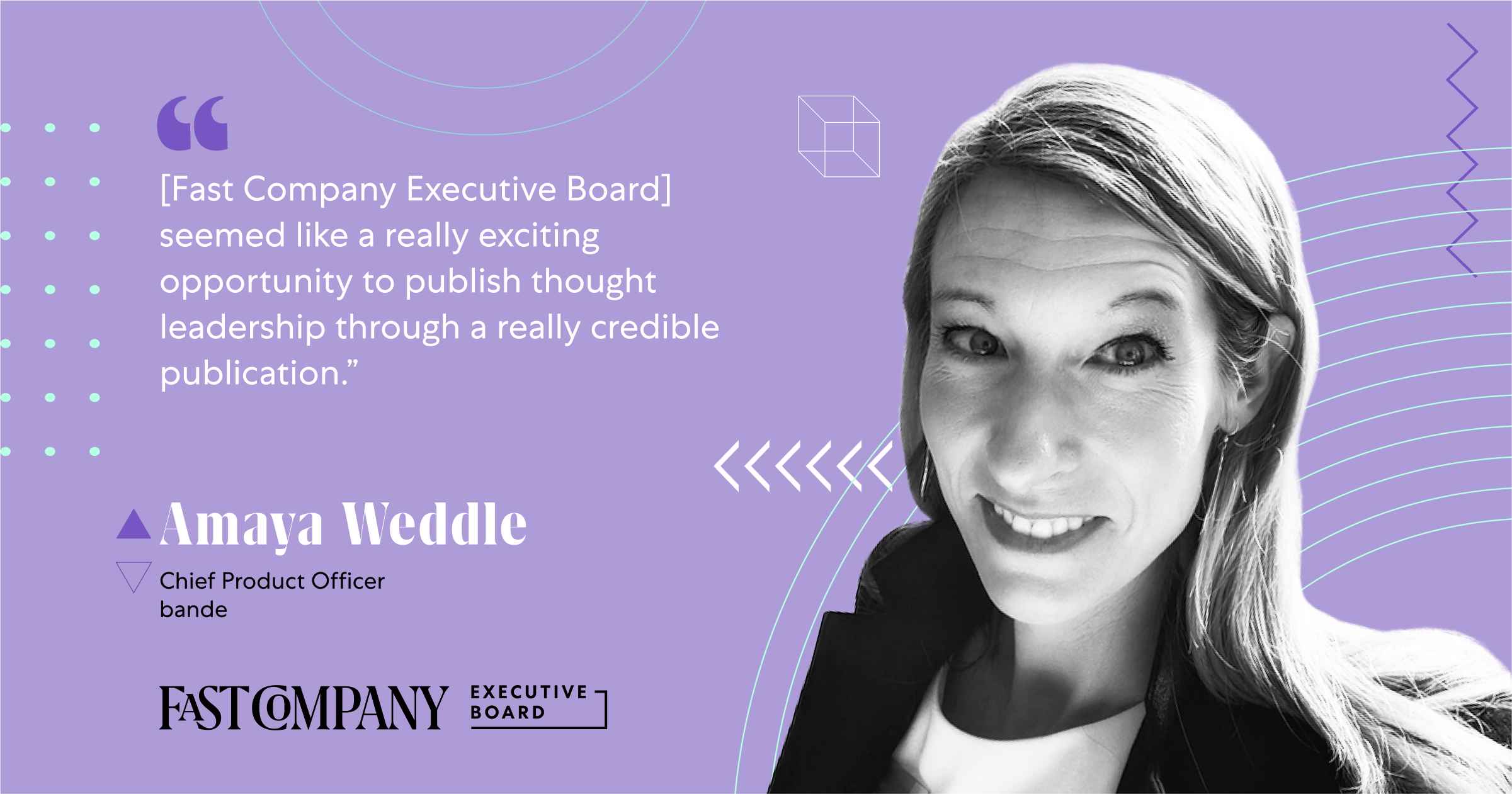 Several years ago, Amaya Weddle found her sweet spot at the intersection of tech and wellness. She worked at MindBody, a technology provider to the fitness and beauty industries, for more than six years before landing at bande, a startup that offers live two-way group fitness classes with a strong social element. As the company's first full-time employee and its chief product officer, she's responsible not only for product strategy and marketing, but for overseeing the development team. "It's rewarding to move quickly and to actually be delivering value every single day," Weddle says. "And I fundamentally love this product because I am the typical consumer. I get to enjoy my labors in our classes."
Because bande is a startup, Weddle finds that she wears many hats. Last summer, for instance, she spearheaded the creation of a pop-up shop to sell branded merchandise. But her primary role is ensuring that bande's technology provides its customers with the best possible user experience. "As a lifetime learner, it's been just wonderful and fascinating and fun, even though painful times," Weddle says.

As a student, Weddle assumed her career would revolve around science and planned to get a PhD in chemistry. But she ultimately decided that the prospect of life in a lab was unappealing to her. Instead, she tapped into her interest in "building products and technology that helps to teach concepts and really aligns with people's cognition." So she got a PhD in cognitive science, focusing on user experience and human computer interaction. That discipline led her to work at a number of Silicon Valley software companies. Then, she says, "I found myself falling in love with wellness as a technology space."
"Just having the opportunity to meet and interact with other executives from very diverse types of businesses and share current problems that we're having — there's usually something I take away from an interaction that's valuable."
Weddle had been working at MindBody for several years when the pandemic hit and decimated the fitness industry; many of the company's customers were forced to shut down their studios. MindBody responded by building an app for live streaming classes and Weddle became intrigued with the rapid adoption of virtual fitness. At the same time, she was approached by Rebecca Balyasny, a finance industry veteran who had just started bande, a virtual fitness platform. She asked Weddle to come on board as the company's first employee. "I saw that the space was really growing and really exciting so I was like 'yep, I'm in; let's do it,'" recalls Weddle.
Bande is a subscription service that offers a variety of fitness classes, from gentle yoga to cardio boxing. "It's a competitive space, but our offering is very unique in that we offer a high degree of two-way interactivity," says Weddle. "It's almost like a personal training experience." Class attendees cheer one another on and instructors give feedback to individuals in real time. The company hired instructors who already had large and loyal followings, and valued being part of a company that would handle social media, booking, and other back office functions that can often seem daunting to independent instructors. Some of the company's employees have dual roles. For instance, bande's social media manager is also an instructor. "Part of the criteria that we use for recruiting is that we want people to really show up as strong, to almost be a performer, but also be comfortable with technology," says Weddle.
Fast Company Executive Board, Weddle says, "seemed like a really exciting opportunity to publish thought leadership through a really credible publication." She has a great deal of respect for the brand and how it covers the wellness industry and the intersection of technology and culture. She has been a regular contributor to Expert Panels and says she not only values getting published, but also discovering new perspectives on important topics from other members. Also rewarding for Weddle are Fast Company Executive Board virtual meetups. "Just having the opportunity to meet and interact with other executives from very diverse types of businesses and share current problems that we're having — there's usually something I take away from an interaction that's valuable," says Weddle.