Through Fast Company Executive Board, Rose Afriyie Will Share Insights on Scaling a Diverse Organization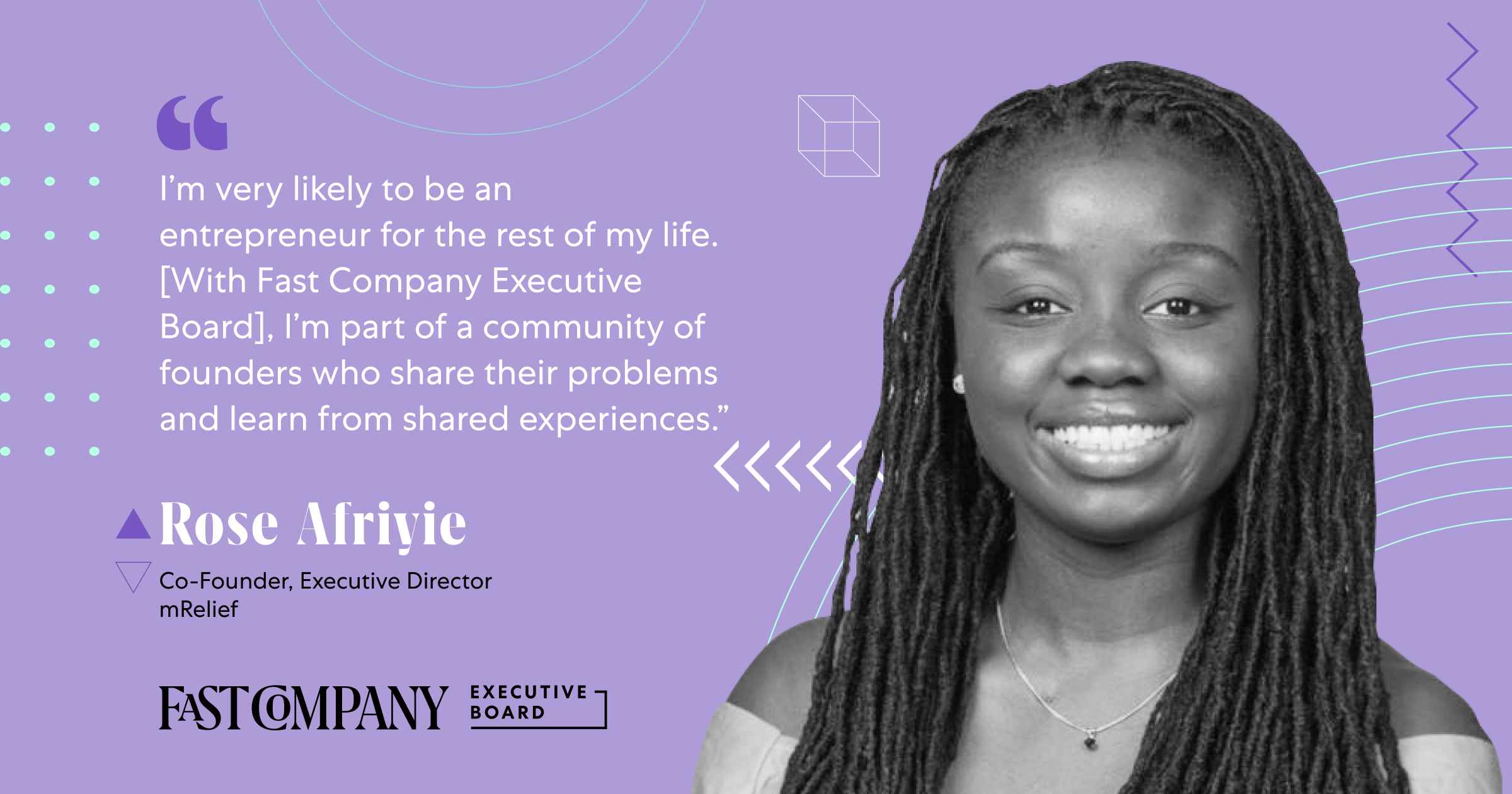 When Rose Afriyie was working in Ghana as a journalist covering anti-corruption activities, she became acutely aware of the digital divide and how it impacts families worldwide. The seed was planted for mRelief, a non-profit that helps Americans enroll in the SNAP (food stamps) program through an easy-to-use web platform. "When co- founding mRelief, in 2014, it was about creating access for families who just either didn't have access to the internet, or even when they did, it just wasn't something that they felt comfortable maneuvering to access public services," says Afriyie.
Afriyie and her co-founder, Genevieve Nielsen, met at a coding bootcamp in Chicago and decided to join forces at Chi Hack Night, a program that brings together researchers, data scientists, and developers to solve civic problems with technology solutions. At that time, Chicago was faced with big challenges regarding its rental assistance program — 10,000 people a year were applying, but only 400-600 were eligible. The paperwork was onerous, landlords were sometimes uncooperative, and the applicants often felt humiliated. "We wanted to really empower Chicagoans on their rental assistance eligibility," says Afriyie. So the partners built a web tool that helped applicants quickly determine their eligibility and then, if appropriate, diverted them to other government programs that might be more fruitful, such as SNAP.
In fact, Afriyie and Nielsen conducted database inquiry and discovered that SNAP was the number one program that applicants were interested in. Going forward, they would focus their efforts on making it easier and faster for people to determine if they qualified for food stamps. The two were accepted into Y Combinator, where they refined their product. As a Black woman from the Bronx, New York, Afriyie says she initially worried about whether she'd fit in at Y Combinator. "What I actually found was that it was one of the kindest founder communities I've ever been a part of," she says. "It was thoughtful, intentional, and really helped us get underneath how we would make a transformative impact in the space."
"I do think inclusion is not just a 'nice to have' but a 'must have' as we move into this next arena of the digital age. [Though Fast Company Executive Board], I'll share some of the best practices and things we've learned as we've scaled."
Shortly after its Y Combinator experience, mRelief landed a multi-year contract with the State of California."That really did pave the way for our scale," says Afriyie. Essentially, mRelief replaces the plethora of paperwork typically required to understand eligibility for SNAP with ten simple questions that take less than three minutes to answer. The tool, a mobile-friendly website with a text messaging component, not only determines eligibility, but helps people sign up for the program. Afriye says that $12 billion in SNAP funds go unclaimed every year, partly due to the approximately 20-page application form many states use plus the additional documentation that's often required. mRelief has made good headway toward solving that problem. Since its inception, the nonprofit has helped more than one million families in all 50 states and DC access $383 million in food stamp benefits.
Before the pandemic, the number of food-insecure Americans had been decreasing. But the economic devastation wrought by COVID-19 put more people than ever at risk of going hungry. Pre-pandemic, mRelief's monthly traffic was approximately 24,000 users; now, it's more than 40,000, says Afriyie. As part of an effort to help local non-profits keep in touch with clients during lock-down, mRelief built Johnnie, a CRM tool that enables outreach workers to help families sign up one-on-one for SNAP through compassionate casework. MRelief works with organizations such as Catholic Charities and Share Our Strength to identify eligible families and aid people who need one-on-one help to sign up for SNAP.
"I'm very likely to be an entrepreneur for the rest of my life," says Afriyie. [With Fast Company Executive Board], I'm part of a community of founders who share their problems and learn from shared experiences." She also plans to contribute content that highlights her experience scaling an organization that is composed largely of women of color. "I do think inclusion is not just a 'nice to have' but a 'must have' as we move into this next arena of the digital age," she says. "I'll share some of the best practices and things we've learned as we've scaled." Afriyie hopes that her story will be inspiring to others. "I want more women, especially black women and people from marginalized groups, to know that this is possible for them and they can make it out on the other side."