Fast Company Executive Board Publishing Gives Kevin Namaky Increased Social Media Exposure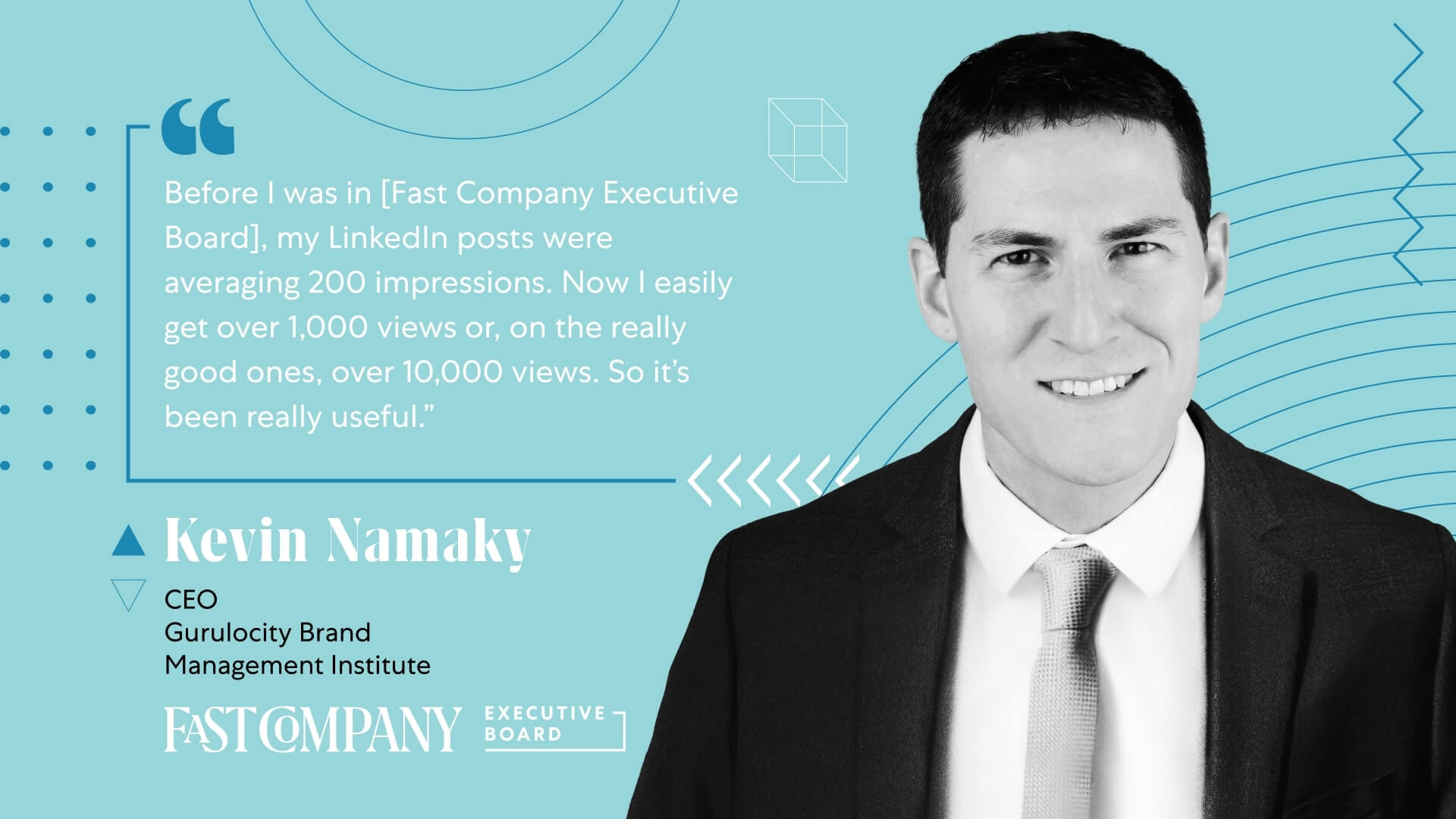 Kevin Namaky spent 15 years crafting brand and innovation strategies for large consumer companies, and another five years in agencies and consulting. That experience included working on brands such as Kleenex, Kraft and Miracle-Gro. But after experiencing burnout at an agency, he decided he wanted to start his own business. "I was working 70-80 hours a week, not seeing my family, and my health was suffering," he recalls. "I decided I didn't want to do that anymore."
But for Namaky, the leap from employee to entrepreneur was gradual. To mitigate his financial risk, he took a job with The Gorilla Glue Company — a position that he knew would not be a heavy lift and that would give him time to develop his own business on the side. And he was completely transparent with his employer about his plan. "They put in writing that they were okay with the arrangement and I basically built my own hours," he says. He worked 40 hours at his "day job" and 20 on his business, with a plan to go all in on his company as soon as he hit half his total revenue goal.
After four years at Gorilla, Namaky achieved that goal in February 2020, drafted a resignation letter, and was ready to forfeit the security of a job that he very much enjoyed. And then the pandemic hit, and he tucked the letter back into his desk. It wasn't just that his business revolved around doing in-person workshops and training events. Spooked by uncertainty, companies put the brakes on spending. So he bided his time and hoped that the business environment would normalize. After a few months, things began to pick up again and he shifted to offering virtual events and engagements. At the beginning of 2021, he felt ready to devote himself full-time to his own company, Gurulocity Brand Management Institute.
"I've noticed that the things I put out there [through Fast Company Executive Board] are getting a lot more exposure because everybody is helping lift each other up."
Gurulocity, says Namaky, is a "marketing education company." He has a music education degree and once envisioned himself as a band director in schools. But marketing also piqued his interest. "I knew I wanted to do something that involved teaching people," he says. "I didn't want to start a traditional agency or build a consulting practice, so I decided to teach something that I knew really well, which was marketing." He does training and development for consumer brand management teams, one-on-one coaching with individual brand managers, and will soon launch a membership-based platform for enterprises.
Now that he's been on his own for a year, Namaky has some insight into what it means to start a company and how things don't always progress as planned. "You think, 'I'm going to create this little thing for me, that'll give me freedom and control and I'll create just enough work and income to be happy,'" he says. But he quickly realized that as soon as his business started growing, he was doing many things that he wasn't good at and that he'd need help if he wanted to get to the next level. Now, he works with 10 to 15 contractors; his goal for this year is to hire a full-time employee or two.
Namaky was drawn to Fast Company Executive Board because "I wanted to be published in high-profile publications to establish myself as an expert and develop social proof and credibility," he says. But he also liked the idea of being part of a community that includes other entrepreneurs who may be facing similar challenges and concerns as they grow their companies.
He's contributed to numerous Expert Panels and has written by-lined articles that have given him increased exposure and have been catalysts for new connections. When fellow members share and tag posts on LinkedIn, says Namaky, "I've noticed that the things I put out there are getting a lot more exposure because everybody is helping lift each other up. Before I was in [Fast Company Executive Board], my LinkedIn posts were averaging 200 impressions. Now I easily get over 1,000 views or, on the really good ones, over 10,000 views. So it's been really useful." Namaky also thinks the community has helped him land new business. "I do think my writings [through Fast Company Executive Board] and that credibility made them more likely to say yes," he says.