Fast Company Executive Board Gives Brandon Pena a Platform for Storytelling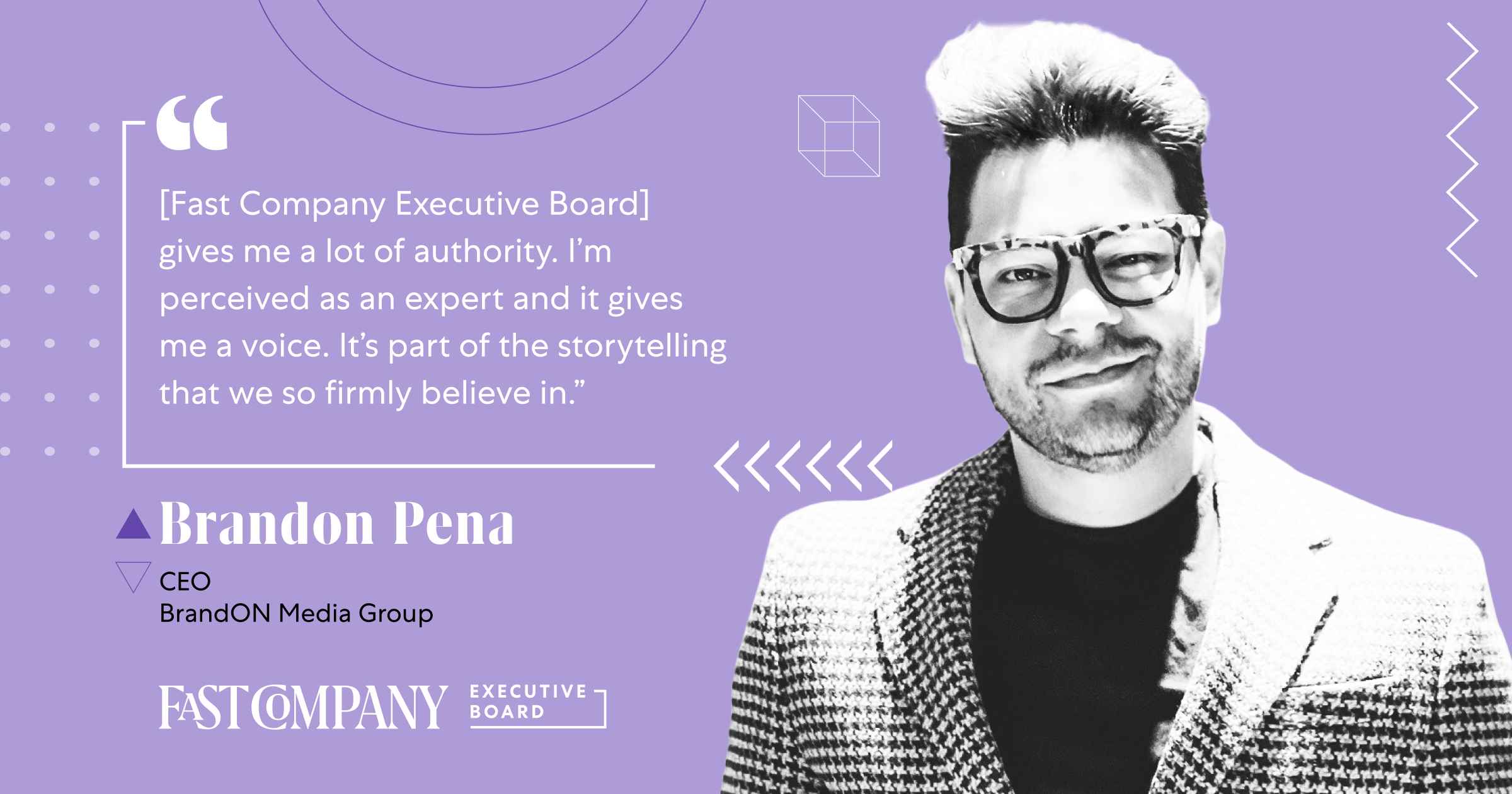 Back in 2011, Brandon Pena got a lucky break. He attracted the attention of Facebook through the work he was doing for his clients on the platform. "I was named a Facebook star," Pena says. "Which meant I was generating 99% more engagement than other agencies for our customers." Facebook hired him to travel to Spanish-speaking countries to train users on the platform's new offerings. And that resulted in more work for Pena. "We generated a lot of value, created a lot of relationships and content for companies," he says. "We were one of the first companies to immerse ourselves in the 360 world of virtual reality."
Pena's company, BrandOn Media Group, created video campaigns that triggered strong emotions and led to increased customer engagement for clients that included American Airlines and State Farm. "That's the formula we used to grow the agency and increase ROI for our customers," he says. And in 2014, he decided to put those skills to use for himself.
An ardent coffee lover who was intrigued by Starbucks marketing (if not the coffee itself), Pena bought a 103-acre abandoned coffee farm in Puerto Rico. People were drinking more and more coffee, but 99% of all coffee consumed in the U.S. comes from Columbia, Brazil, or Vietnam. Only Hawaii and Puerto Rico grow coffee in the U.S., and Pena reckoned that coffee with a great locally-grown story behind it would resonate with consumers. 787 Coffee was born.
Three years after he bought the farm, his first crop was ready and he began shipping direct to consumers via a subscription service. He also landed a contract with United Airlines to send beans to their VIP customers. Buoyed by initial success, Pena opened retail coffee shops in Puerto Rico and in Manhattan. And then disaster struck.
"It's an honor to be able to collaborate with other entrepreneurs, sharing my insights. I'm hoping to inspire other young beginners and new immigrants."
In September 2017, Hurricanes Irma and Maria ripped through Puerto Rico in quick succession and Pena lost 97% of his plantation. "Within four hours, I lost all the money I have made in my life," he recalls. "Everything was gone. I thought it was the end." But his own feelings of despair were overshadowed by the stories of devastation that came from his workers on the farm, some of whom had lost everything. Pena was motivated to help and used his contacts at United Airlines to fly in water, baby formula, diapers and other supplies. "That's when we realized what we do and who we do it for," he says.
Determined to rebuild, Pena planted a new coffee crop and, three years later, was back in business. Now, he's getting ready to buy a second plantation and is preparing for "the biggest production we've ever had" in September. He's opened 16 coffee shops in New York City, three in Puerto Rico, and is hoping to expand to Florida and Texas this year.
So what differentiates 787 Coffee from, say, the Starbucks down the street? "We remind our co-workers all the time that the real boss is the consumer," says Pena. "When we see a customer open that door, we're grateful and we have a huge amount of respect, because they chose us instead of another coffee shop along the way." The shops give neighborhood customers discounts, and baristas routinely tell the coffee's farm-to-cup origin story. Visitors to Puerto Rico can tour the farm, and Pena sends his New York and Puerto Rico employees on cross-training trips so that everyone has a full picture of how the company operates.
Pena says that he's thrilled to be a member of Fast Company Executive Board because the brand "has been a pillar in my life" and a continuous source of valuable business wisdom. "It's an honor to be able to collaborate with other entrepreneurs, sharing my insights," he says. "I'm hoping to inspire other young beginners and new immigrants." Publishing through Fast Company Executive Board, Pena says, "gives me a lot of authority. I'm perceived as an expert and it gives me a voice. It's part of the storytelling that we so firmly believe in."