Andreea Vanacker Gains Valuable Insight From Fast Company Executive Board Members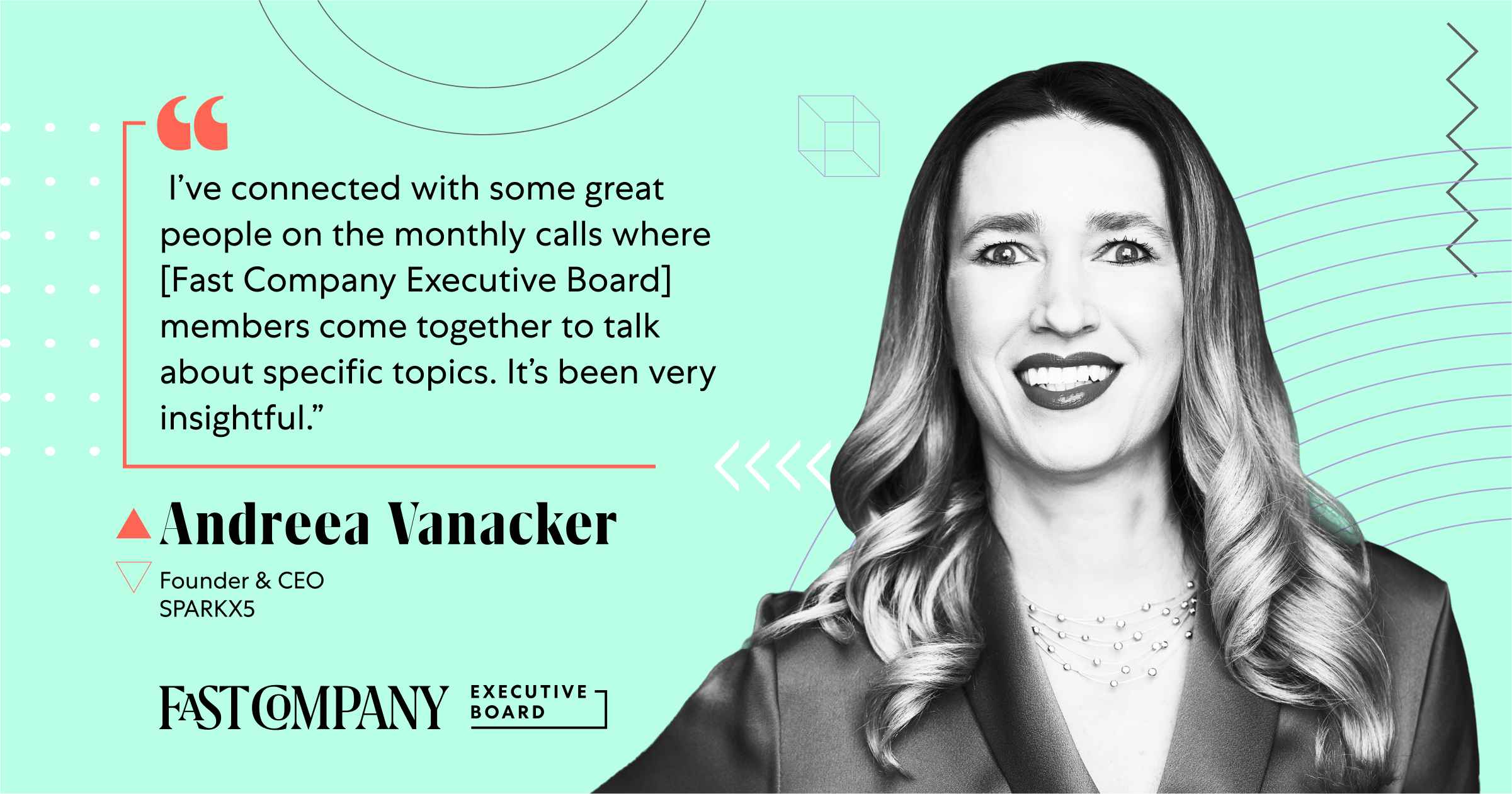 Throughout most of her early career, Andreea Vanacker worked in the realm of international business, managing teams at large organizations such as the International Air Transport Association and Bombardier. "It was a fascinating journey because I needed to find innovative ways to motivate my team to achieve specific results, while being sensitive to the cultural dimension that came into play, given that I was managing a global team," Vanacker recalls.
Her corporate work led Vanacker to explore the elements of psychology and neuroscience that relate to human motivation. She was inspired to leave the corporate world and write her first book, Successonality, which helps people develop the right mindset and behaviors to drive success. She created a business around the concepts she developed in the book, and worked with brands such as L'Oreal and Marriott to create programs that helped drive employee performance.
In 2019, Vanacker formally launched Sparkx5, which she describes as "a holistic well-being technology company that enhances employee vitality within the workplace." Through research for her second book, Vitality: Life And Leadership Lessons To Allow You To Thrive, she identified five pillars of human well-being: purpose; career and prosperity; relationships; health; and quality of life. Using the pillars as a roadmap, she created an application that delivers "micro-wisdoms and micro-challenges Monday to Friday to help individuals take their life to new heights," says Vanacker. Sparkx5 works with clients in a variety of industries that "have a desire to elevate human potential and that care about the well-being of their employees. The end result is greater energy and fulfillment for employees, and enhanced corporate performance."
After she self-funded the Sparkx5 app development, during the launch phase she met various people who expressed interest in investing and partnering with her. "I brought in two phenomenal people as my business partners," she says. The partners decided to earmark a percentage of their revenue to causes that relate to the United Nations Sustainable Development Goals. "​​We support three main causes as a purpose driven company," she says. "One is supporting education for underprivileged kids, second is giving meals to local food banks, and third is planting trees."
"[Fast Company Executive Board] was an opportunity for me to share insights and perspectives based on some of my leadership lessons and my research."
Her business was progressing nicely when, a few months after the pandemic hit, Vanacker was confronted with a significant roadblock. She was diagnosed with a chronic pain condition that caused tremendous facial pain. "Anything I would do that involved the movement of any facial muscle — talking, laughing, drinking, brushing my teeth, you name it — was excruciating," she says. "I had to pull myself away from the business and focus on just managing the pain." She thought she'd have to live with the condition forever, but an MRI revealed the cause of her affliction: a benign brain tumor. Surgery was risky and Vanacker says "I literally had to plan my death from a multitude of perspectives, from revisiting my will to preparing the family," she says. The surgery, in November 2020, was remarkably successful and while Vanacker was faced with a long recovery period, she emerged healthy and pain-free. "Right now, as you can imagine, I have a very different view on life," she says.
In addition to her consulting work, in 2014 Vanacker co-founded IAMWILD, a collaborative platform that connects art, conservation, and business through an online gallery of eco-themed art and clothing. The organization has both a for-profit and a nonprofit element, and Vanacker says she is currently exploring licensing opportunities with various global brands. Going forward, she is sharing her story with the world through conferences, while exploring merger and acquisition possibilities for Sparkx5. Additionally, she's working on a new book about what she calls the trilogy of joy — a new model that she has developed that has helped her get through her health crisis. She will be giving a TEDx talk in June 2022 about this to inspire others to find the silver lining in any life challenge. "Despite the turmoil and some dark days that I've had to go through, it's been a positive journey that has brought a fresh perspective on the blessings of everyday living and this has amplified my joy for life," Vanacker says.
As a fan of the brand for many years, Vanacker was eager to join Fast Company Executive Board. "It was an opportunity for me to share insights and perspectives based on some of my leadership lessons and my research," she says. She participates in Expert Panels and shares them with clients and on LinkedIn. "Because of the brand's reputation, it's been very valuable," she says. As a participant in virtual events, Vanacker says "I've connected with some great people on the monthly calls where members come together to talk about specific topics. It's been very insightful."