For Meagan Bowman, Fast Company Executive Board Members Are Like Virtual Advisors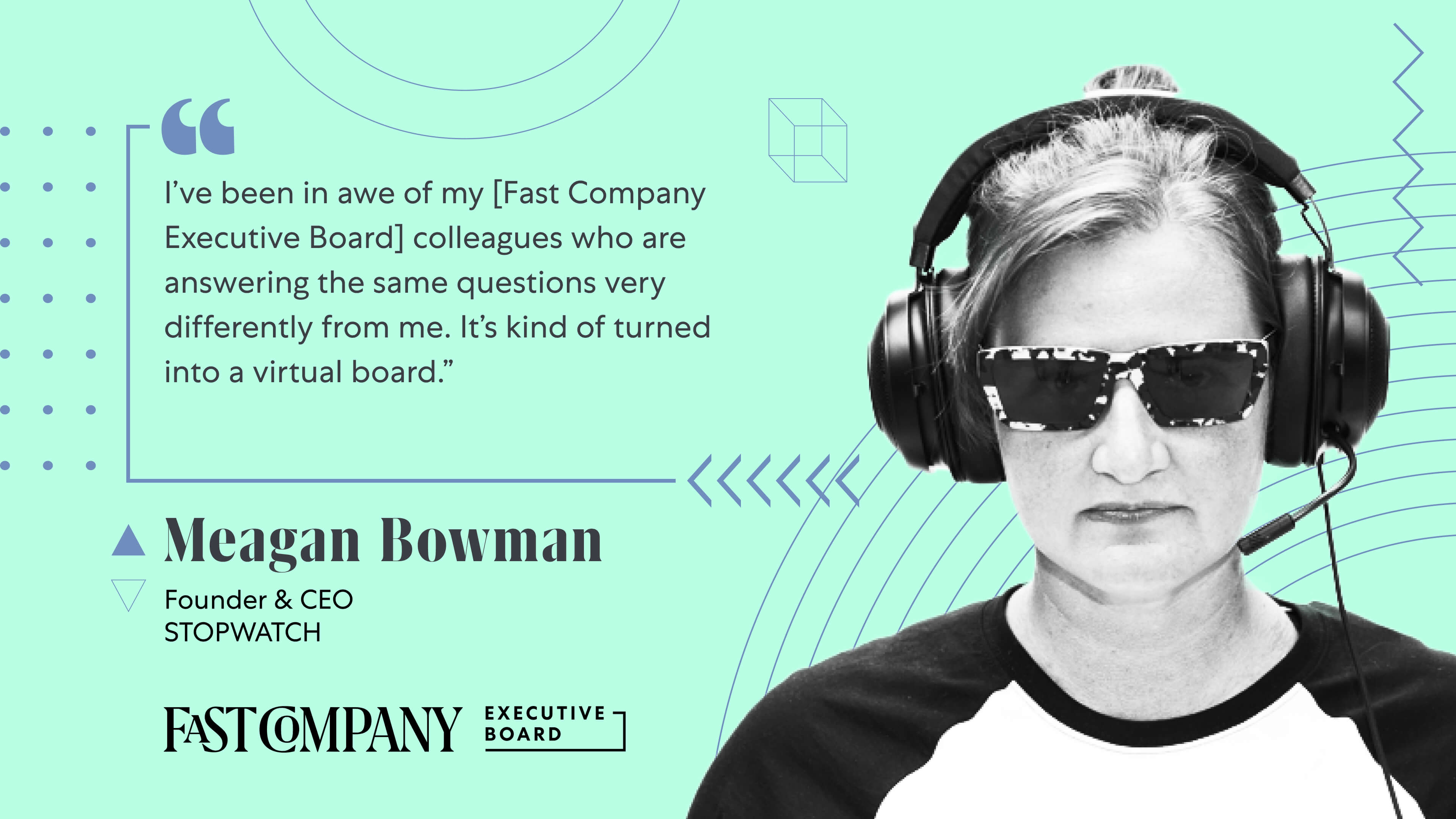 At a time when most entrepreneurs will tell you that location no longer matters, Meagan Bowman begs to differ. She moved from Seattle to Bentonville, Arkansas, nine years ago to start her company, Stonehenge Technology Labs for two reasons: the state offered attractive incentives for entrepreneurs looking to start technology and engineering companies; and, most importantly, there are more than 1200 consumer packaged goods (CPG) offices in Bentonville, since WalMart requires them to have presence there.
"I call it Vendorville," Bowman jokes. That's important to her because CPG companies are the customers for her company's flagship product, Stopwatch. It's what Bowman calls an "action analytics platform" that gathers a company's data from all online and brick and mortar retailers to provide an accurate snapshot of everything that's sold. "It's a very different way for consumer packaged goods companies to look at their products." Whenever she wants to test out a new feature, she can typically find a neighbor who works at a CPG firm in some capacity, and get them to come to her home for a demo. "It's a great hack to get really, really close to a very difficult software-as-a-service user," she says. "And it's proven to be really great."
Bowman has a long history as a data analytics specialist for CPG companies. She started out at Lori Coulter Swimwear, where she "realized that luxury apparel was super interesting and cool, but at the same time there were a lot of dollars flowing through things like chips, trash bags, and toothpaste." She eventually ended up at Hallmark, and that's where her idea for Stopwatch began to percolate, six years ago.
Third-party marketplaces like Amazon were a massive game-changer for the retail industry because they allowed anyone to sell anything at any time. Bowman notes that at one point, her 11-year-old son was selling more Nike products on Amazon than Nike was. The reason: big companies don't really understand the Amazon model. "The Hallmark system had more power, energy, and resources than anyone on the planet," says Bowman. "Yet within the online marketplaces, we were getting our lunch handed to us by much smaller, digitally native companies." She decided to build a technology solution to give big companies the same kinds of analytics that smaller, tech-savvy companies were leveraging.
"[Through Expert Panels] I'm able to be featured with some really smart people both in my space and in complementary industries."
"Technology is a discipline within the CPG space that has been ignored for a really long time," says Bowman. It was not easy for her to get customers on board. She refused to hire salespeople because she wanted to allocate the bulk of her resources to engineering. Hence, she eschewed slick videos and persuasive sales decks in favor of a simple promise to "rip open their system" to give clients better data on their various sales channels so they could better manage production, shipping, inventory, etc. It worked: her first client was General Mills. "The reason we started with large legacy consumer packaged goods companies is because we knew that [the technology] would have to be the most secure, and it would press our technological limits the most."
Prior to the pandemic, Bowman says her pitches to CPG firms were less than successful. "Every big company would say, 'we know what you're talking about sounds very important, but we're just biding our time until it becomes a real problem,'" Bowman recalls. But when the pandemic hit and shortages of toilet paper and hand sanitizer caught companies off guard, Stopwatch's value proposition suddenly became more relevant. "We were getting calls left and right," says Bowman. "People were digging in their desks trying to find the card of this crazy girl that they talked to a couple years ago. So we literally went from rags to riches."
Bowman is currently in the middle of a Series A round of fundraising, with a big emphasis on finding the right mix of investors who bring a variety of skills to the table. "Every investor and every board member needs to play a critical role," she says. "And if we've already got that role filled, we don't need your money."
As a startup entrepreneur who's short on time, Bowman appreciates the ease with which she's able to engage with Fast Company Executive Board's Expert Panels. "They send me something on my phone in the morning, ask me a question, and I just text back like it's my friend saying, 'what do you think about this?'" she says. "I'm able to be featured with some really smart people both in my space and in complementary industries. I've been in awe of my colleagues who are answering the same questions very differently from me. It's kind of turned into a virtual board."