From Passion to Impact: 7 Visionary Women Building a Better World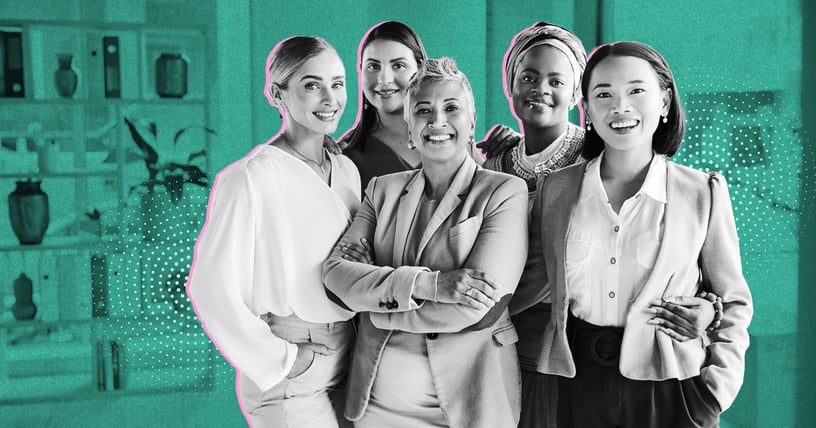 Passion is powerful. It's the driving force that propels people to pursue their dreams, overcome challenges, and make an impact in the world.
The importance of passion in leadership cannot be overstated. When visionary leaders are driven by a deep sense of purpose and an unwavering desire to make a difference, their passion becomes a powerful force for change. By channeling their passion, visionary leaders inspire others, challenge the status quo, and bring about transformative outcomes.
Here are seven visionary women who exemplify passion in their journey towards impactful change. Whether working to conserve our planet, create a more equitable society, or build big businesses, they demonstrate what leaders can do with a strong belief and commitment.
Visionary Women With Passion for the Planet
Jane Goodall Champions Biodiversity
Jane Goodall dedicated her life to studying and protecting chimpanzees and their habitats. From a childhood fascination with a toy chimp, her passion for animals led her to a career as a renowned primatologist and conservationist. Her activism on behalf of wildlife conservation and environmental protection led her to establish the Jane Goodall Institute, a force for igniting the same passion in today's youth and encouraging communities to get involved in conservation efforts.
Goodall's deep connection with nature and her tireless efforts to raise awareness about the importance of conservation have inspired generations to take action and protect our planet's biodiversity.
What big issue do kids today need to think about and get involved in for a better future?
Wangari Maathai Leads Grassroots Conservation Efforts
Wangari Maathai was a Kenyan environmental and political activist. Born in 1940 in central Kenya, Maathai pursued a university education in the US. She went on to become a PhD, to serve in the Kenyan parliament, to write several books, and to win a Nobel prize.But she is most known for the Green Belt movement. Her passion for sustainable development and social justice drove her to mobilize women in Kenya to plant millions of trees to combat deforestation and promote sustainable livelihoods.
Maathai's dedication to environmental activism and women's empowerment made her the first African woman to win the Nobel Peace Prize in 2004. Her efforts made a lasting impact on conservation efforts worldwide.
Who are the people around you, and how can you rally them to make a difference?
Greta Thunberg Fights Climate Change
Greta Thunberg is a Swedish environmental activist who has become a prominent voice in the fight against climate change. Her passion came from fear for the future of our planet. She started with a school walkout as a young teen, protesting rising emissions alone in front of the Swedish parliament. She posted about her actions on social media, explaining why she was taking action. As her story and influence grew, she inspired students around the world to follow her lead.
At 15, Thunberg was already making enough headlines that she was invited to speak at the UN Climate Change COP24 Conference, where she chastised world leaders over their refusal to take effective action. At 16, she was TIME magazine's 2019 person of the year, and millions of young people were protesting with her, across the world. Thunberg is the ultimate example of starting a major movement from scratch.
What one small action can you take today to plant the seed of something great?
Visionary Women With Passion for an Equitable Society
Malala Yousafzai Advocates for Girls' Education
Malala Yousafzai is a Pakistani activist whose passion for girls' education and gender equality was ignited at a young age. Her father determined that although girls were not valued as boys were in Pakistan, Malala would have every opportunity. But when Malala was 11, the Taliban took control of her town and forbade education for girls. Defying the Taliban, Malala continued to learn and spoke out for girls' right to an education. At 15 years old, she was targeted and shot on her way home from school.
Malala was evacuated to the UK, where she continued to advocate for education and social change, and created Malala Fund, a charity "dedicated to giving every girl an opportunity to achieve a future she chooses." Malala's passionate belief in the power of education as a tool for empowerment and social change has made her a symbol of courage and inspiration worldwide, and landed her a Nobel Peace Prize at the age of 17.
What unfair situation do you face right now? What small thing can you do to start making a change?
Dame Jacinda Ardern Demonstrates Empathetic Leadership
Jacinda Ardern was the Prime Minister of New Zealand from 2017 to 2023. She is known for her empathetic and kind leadership style and her dedication to building a more equitable and sustainable society, including prioritizing well-being, addressing climate change, and championing social justice.
She is also known for her propensity for taking quick action to address crises, such as implementing strong public health measures when COVID-19 broke (resulting in New Zealand having one of the lowest mortality rates in the world during the pandemic), and enacting strong gun control laws after the Christchurch mosque terrorist attack in 2019.
Her strong but empathetic leadership has landed her on the Forbes Most Powerful Women list, the Time 100 list, and Fortune magazine's World's 50 Greatest Leaders (Ardern was #1). Most recently, she was appointed a Dame Grand Companion of the New Zealand Order of Merit.
How can you implement an empathetic leadership style where you are?
Visionary Women With Passion for Building Businesses
Indra Nooyi Transforms PepsiCo
Indra Nooyi is an Indian-American executive who served as the CEO of PepsiCo from 2006 to 2018. Nooyi has been named to Wall Street Journal's list of 50 women to watch, Time's 100 Most Influential People in The World, and both the Forbes and Fortune lists of Most Powerful Women. Why all these accolades?
During her tenure at PepsiCo, Nooyi focused on her passion for healthier living and sustainability. She transformed the business in three ways. First, by expanding its product portfolio to include healthier food and drinks. These changes, including the acquisition of Tropicana and a merger with Quaker Oats, grew the company's sales by 80%. Second, she made sustainability and environmental protection a priority, converting facilities to use renewable electricity and updating packaging to create less waste. Finally, she focused on building a human-centric company culture to bolster and retain employees.
Nooyi's efforts not only generated success and growth for PepsiCo, but also made a positive impact on the environment and, hopefully, public health.
If a soda executive can steer her company toward healthier choices, you can bring something counterintuitive but powerful to your work as well. What will it be?
Sara Blakely Grows Spanx from Idea to Global Brand
Sara Blakely is the founder of Spanx, a company that revolutionized the undergarment industry by introducing comfortable and shaping undergarments for women. Her own experience being forced to wear pantyhose as a door-to-door salesperson spurred the idea. At the Forbes Under 30 Summit in 2014, Blakely said she built Spanx after realizing that while she didn't have the most experience or money, she cared about women and their preferences, and that passion made all the difference.
Blakely's vision and entrepreneurship have made Spanx a globally recognized brand. She became the youngest self-made female billionaire in 2012 and has since committed to using her success to support and empower women through initiatives such as the Spanx by Sara Blakely Foundation, which is "dedicated to making the world a better place by elevating women on the planet and supporting females through entrepreneurship, education and the arts."
What small thing irritates you? What solution would eliminate the annoyance and help others?
Turn Your Vision Into Action
These passionate visionary women clearly demonstrate how to turn vision into action and create an impact. Each has envisioned a better world and created meaningful change. Their dedication and willingness to take bold actions have not only transformed their respective fields but inspired countless individuals to join the quest for a better world.
If you're putting your vision into action and want to become a more passionate leader, meet some amazing visionary women, share ideas with other innovative leaders, and get publishing opportunities with FastCompany.com, see if you qualify for Fast Company Executive Board, a vetted professional organization of senior executives, founders, and business owners who are defining the future of business.