For Andrew Binns, Fast Company Executive Board is a Valuable Community of Movers and Shakers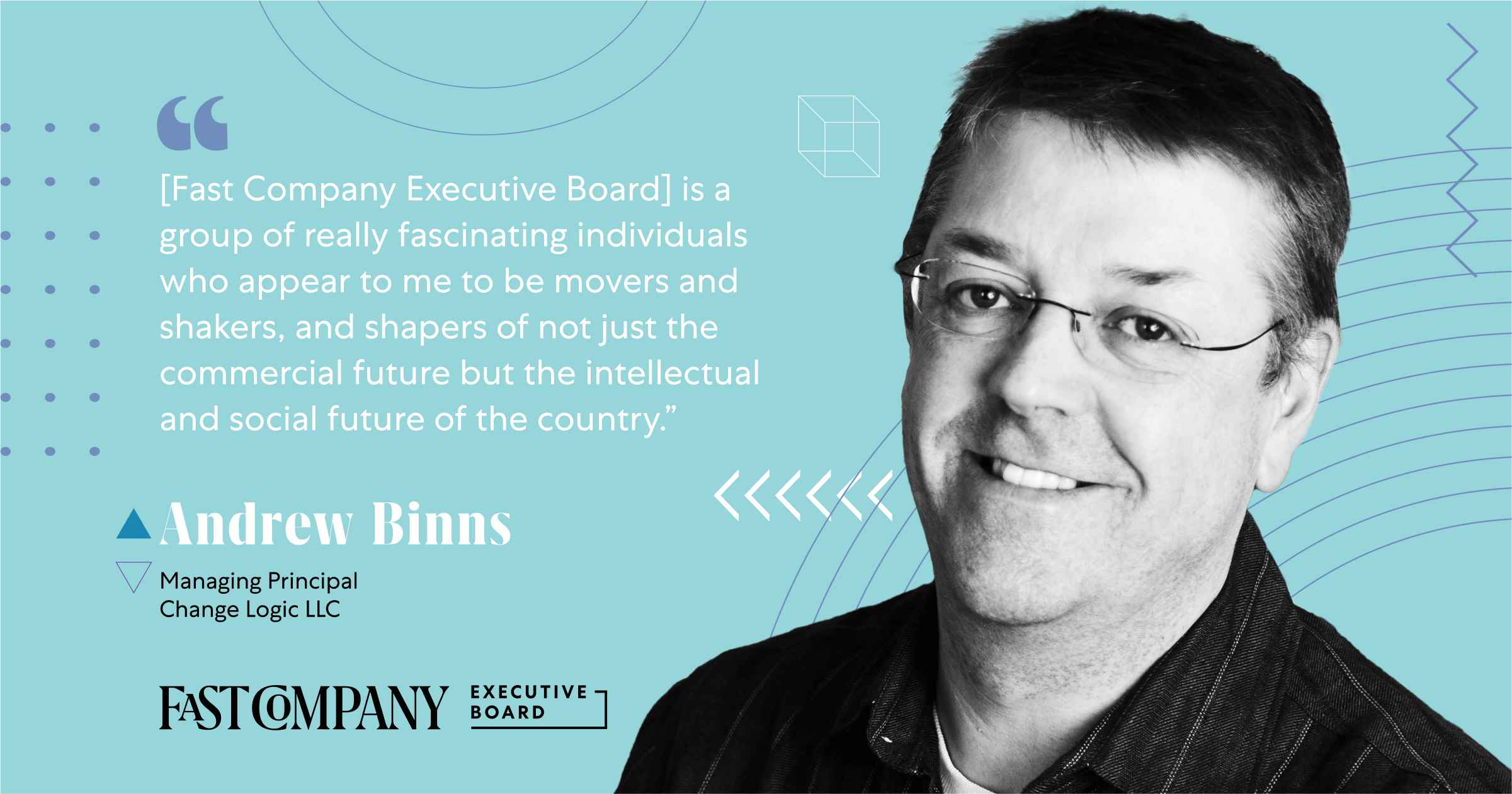 At IBM, Andrew Binns worked in a division that was responsible for emerging business opportunities. "Twenty-odd years of work have come from that starting point," Binns says. "I essentially worked with start-ups inside of IBM, some of which became multi-billion-dollar businesses." What he learned at that job was the foundation for the work he now does at his own firm, Change Logic. The company, founded with two former IBM colleagues, Michael Tushman and Charles O'Reilly, specializes in helping large companies generate, incubate, and scale new ventures internally.
But fostering the entrepreneurial spirit inside of large companies — many of which have organizational structures that aren't always conducive to innovation — isn't easy. "If you're outside of a corporation, you have more freedom and fewer resources," Binns says. "If you're inside a company, you have far more resources available to you, but far less freedom. So how do you navigate that?"
According to Binns, there are some common impediments that corporations face when trying to create environments where "corporate exploration" is encouraged (Binns eschews the word "intrapreneurship" — a more common term for his niche). For example, employees may pitch new ideas only to find that there's no structure in place to actually develop them. "Another one is what we call "pilot purgatory," says Binns. "There's no sponsorship or engagement for how you move an idea from being a test into something that's going to scale appropriately." Or a corporation may make a bold bet on a new product, putting vast resources into the project before running tests to ascertain that there's actually consumer demand. Consider, for example, Mozilla's Firefox phone. "It was a vanity project, essentially," says Binns. "And there are remarkably large numbers of those in corporations. There's a discipline that's missing."
"I've joined many of the [Fast Company Executive Board] meetings and spoken to several members of the group offline and exchanged thoughts and ideas. So it's been a very helpful experience."
Much of the work that Binns and his co-founders do involves putting the right structures in place so that the process of corporate exploration is more disciplined. While it's important for employees to come up with ideas that stretch the boundaries of their firms, Binns says that leaders need to define a "hunting zone" — the market areas that fulfill the company's strategy and vision. Within those boundaries, companies should make what Binns calls "small bets," where experimentation is encouraged on a smaller scale so that ideas can be incubated and hypothesis tested. "Experimentation is all about being wrong a lot in order to learn," says Binns. And those learnings give the company confidence to either move forward or to scrap a project before it consumes more resources. Binns and his co-founders have written a book on this process, Corporate Explorers: How Corporations Beat Entrepreneurs At the Innovation Game, to be published in early 2022.
In addition to working with corporations to help them develop new ventures, Change Logic also specializes in organizational change, culture, and leadership structure with companies in the insurance, media, semiconductor, and technology industries. "What happened during COVID is that we got very busy and cycles got shorter," says Binns. "People were less interested in longer-term issues and more interested in shorter-term cycles of innovation. Because of the sheer scale of the change, people were seeing different types of opportunity emerge that they wanted to exploit pretty fast." For instance, the firm helped a European insurance company build a mental health business and a COVID testing service. And Change Logic won a 2021 Fast Company Innovation by Design award for its work with The Atlanta Opera, which enabled the opera to stay open during the pandemic by renting a college baseball field for outdoor performances.
Binns says that Fast Company Executive Board will give him "the opportunity to get our message out to a broader audience and also adding a little branding to those ideas." And he was drawn to "a group of really fascinating individuals who appear to me to be movers and shakers, and shapers of not just the commercial future but the intellectual and social future of the country." He'll share what he's learned from the work he's done with corporations but is also looking forward to learning from the community's diverse members. "I've joined many of the meetings and spoken to several members of the group offline and exchanged thoughts and ideas," he says. "So it's been a very helpful experience."