Fast Company Executive Board Gives Amanda Dorenberg a Broader Audience For Thought Leadership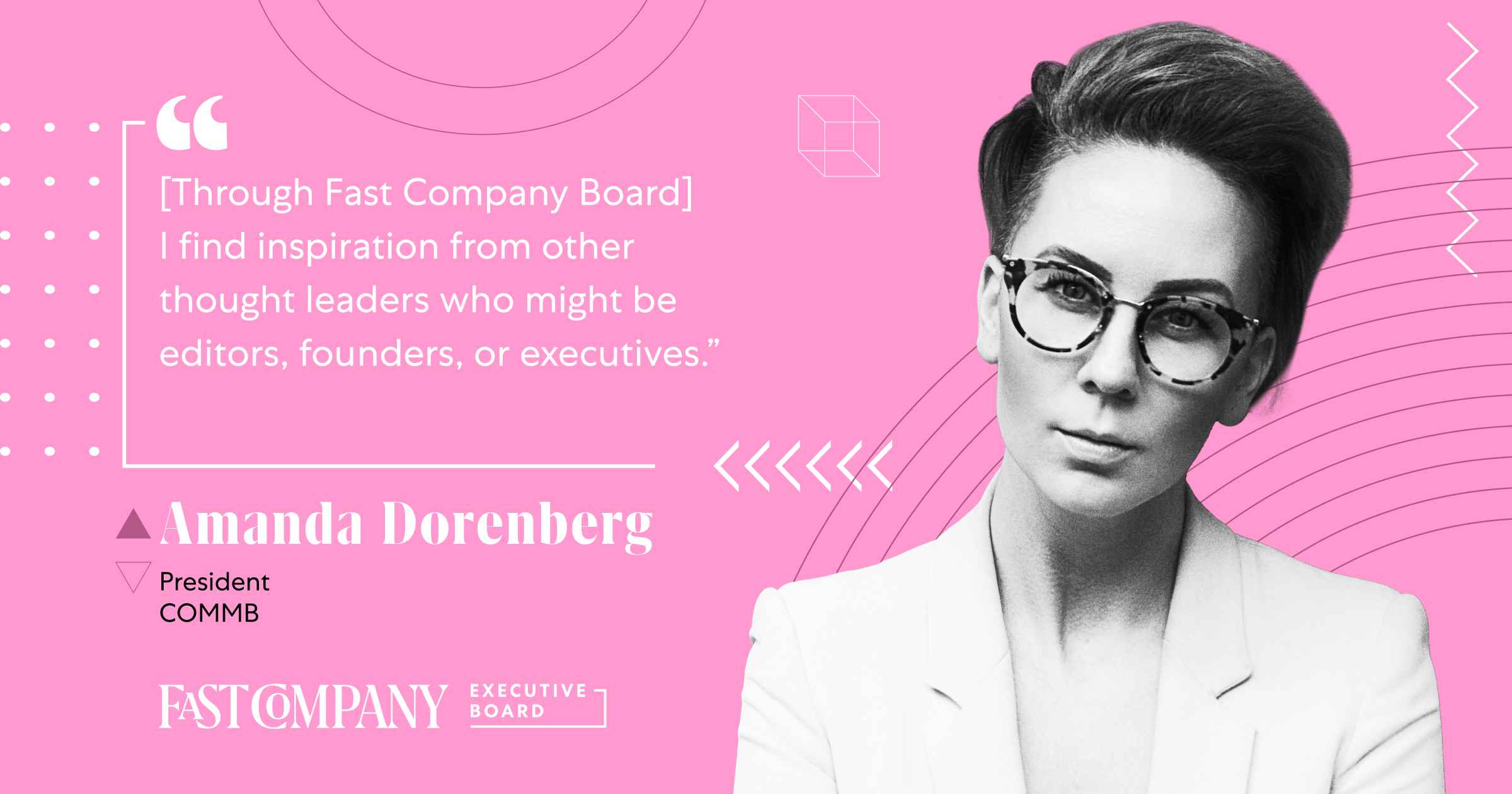 New technology has transformed advertising, but billboards don't immediately come to mind as a source of innovation. Amanda Dorenberg is doing her best to change that. A technology and marketing executive with a passion for disrupting traditional industries, Dorenberg has been making her mark on the "out-of-home" sector of the advertising industry for more than a decade.
She started her career in MarTech twelve years ago when she was hired by Postmedia, a traditional Canadian media company, to integrate new and emerging technologies into its print media brands. "For news content to be consumed via the internet wasn't as popular back then," Dorenberg recalls. "So I looked to build things like augmented reality and QR into the principal components." That job piqued her interest in how technology could be leveraged for competitive advantage, particularly in traditional industries. From there, she moved into the out-of-home — or billboard — sector of the advertising industry, and worked for several companies where she developed growth and marketing strategies and IT infrastructure.
One of Dorenberg's most notable achievements, as director of technology and marketing at Cieslok Media, was developing a first-to-market solution that combined mobile location data and traditional out-of-home media. For instance, the company created a geofence around traditional media locations, such as billboards, then leveraged mobile targeting to gather consumer information. "It was 2012, so it was quite innovative," Dorenberg recalls. "We were the first in Canada to do that."
It was in her next job, at Dynamic Outdoor, that Dorenberg began to set the stage for her current position as president of COMMB (Canadian Out-of-Home Marketing & Measurement Bureau), which is the trade association that provides data and analytics for the out-of-home industry. She spearheaded a program that leveraged cellular carrier data to better understand the movement of mobile devices in front of digital billboards.
"People don't know how much technology is actually driving this industry. Fast Company Executive Board allows me to shout that out to the masses in a way that I wouldn't otherwise have the opportunity to do."
"That allowed us to serve up various different audience segmentation and demographic lifestyle components," she says. In other words, the technology provides advertisers with aggregated (not individualized) data and analytics about who is driving by billboards, and where their mobile phones "sleep" at night. That information, combined with census data, enables advertisers to better target potential consumers. This "audience intelligence" platform attracted attention from an acquirer and the company was bought by Outfront Media in 2017.
After a year and a half at Outfront, Dorenberg co-founded a venture consulting firm, Centrys, to "explore the wonderful world of blockchain." The firm built its own blockchain products, including a crypto and tokenization marketplace. "It was well ahead of its time in 2018 because it was basically the equivalent of what NFTs are today," says Dorenberg. The company also partnered with and invested in startups looking to develop blockchain products. When the company was sold, Dorenberg moved back into the out-of-home industry, signing on as CIO at FrontRunner Technologies. There, she helped develop proprietary technology leveraged by large commercial real estate companies to turn glass windows on vacant, street-level buildings into real-time content and advertising.
Drawn to Dorenberg's reputation as an industry innovator, COMMB approached her in 2020 to run the association. "I think what made me attractive to them was my tech and my data and analytics background," she says. And because she had worked with startups on tight budgets, she knew how to allocate resources creatively – an important skill for a not-for-profit. For her part, Dorenberg had spent her career innovating for individual companies and was attracted to the opportunity to have an impact on the entire industry. This fall, she says, COMMB will launch a new product that will help advertisers gather ad impression data on digital billboards that are shared by multiple advertisers.
"Thought leadership is very important to me," says Dorenberg. As a member of Fast Company Executive Board, "I find inspiration from other thought leaders who might be editors, founders, or executives at other companies." She notes that it's particularly important for her to be a voice for her industry because "people don't know how much technology is actually driving this industry. Fast Company Executive Board allows me to shout that out to the masses in a way that I wouldn't otherwise have the opportunity to do. It allows me to get the message out to a much larger audience."