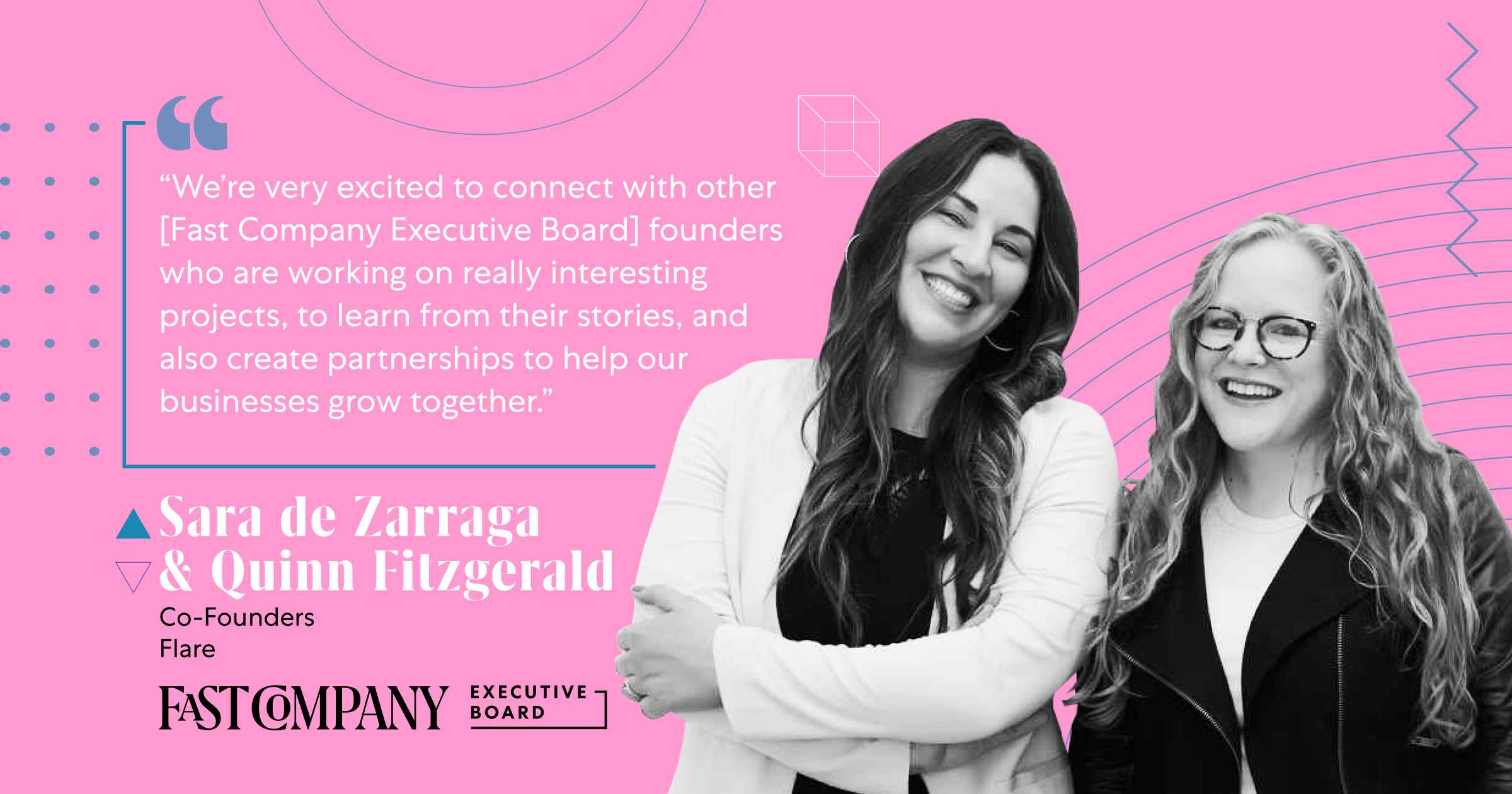 Quinn Fitzgerald and Sara de Zarraga have a very different end game than most entrepreneurs: their big goal is to put themselves out of business. The two met at Harvard Business School and teamed up to launch Flare, which makes an innovative wearable safety device. "We initially bonded as friends and in a shared passion for using business to solve real problems and make lasting change in the world in a positive way," says Fitzgerald.
The partners began brainstorming about their company as part of their classwork but quickly realized that what they envisioned was far too complex to be fleshed out within those confines. Both women are assault survivors and felt that existing safety devices, such as pepper spray and personal alarms, often make precarious situations more dangerous. "The CPG industry hadn't been addressing the problems that we knew people were experiencing," says Fitzgerald. "They took the stereotypes and ran with them instead of taking the time to really listen to people."
Flare is a bracelet that looks like fashionable jewelry but that also features hidden buttons that wearers can use to send themselves fake phone calls, alert their friends to their location, or send GPS coordinates to police. It took four years to develop the product because it needed to check so many boxes: it's a consumer product-driven by software and a mobile app, but it's also hardware that needed to look like jewelry. "It took us four years to find the right jewelry partners who could actually make something that would fit our tech specs and very specific design elements to make sure that the technology was hidden and discreet, but that would also still look good," says Fitzgerald. De Zarraga even took electrical engineering classes to better understand the intricacies of working with a team of engineers.
"Sara and I joined Fast Company Executive Board because one of our goals is to help people understand how safety is actually experienced on a day-to-day basis. We wanted to reach a broader audience."
But the most important element of product design was feedback from customers. "If you don't build in a feedback loop, then you could still build something that people would never find useful," Fitzgerald says. They started by talking to thousands of people about their safety concerns and were clear from the start that Flare was not just for assault survivors, but for anyone concerned about safety. That could mean people living or traveling alone, those who live in unsafe places, have health concerns, or work in situations where they routinely meet strangers. Initially, Fitzgerald and de Zarraga came with a prototype that they brought to a focus group, got feedback, and then did real-world testing by creating 3-D printed bracelets that were spray painted gold or silver, and putting them on a team of beta testers in Boston.
"The fact that a product like this has to exist is awful," says Fitzgerald. "It makes me angry. It makes our customers angry. It should make every single human on the planet angry." So the partners think of Flare as a stop-gap solution that will help keep vulnerable people safe until real societal change makes the product obsolete. They work directly with a host of non-profits who are addressing the issue from a variety of angles.
For now, though, Fitzgerald and de Zarraga have discovered a growing market for Flare. The company launched last year, at the start of the pandemic, with college students as the primary market. But when colleges shut down, the partners discovered that their true audience was multi-generational. Users' age ran the gamut and they weren't just women. "It's anybody who's part of a marginalized community, who feels like the power dynamic isn't in their favor," says Fitzgerald. "The statistics of violence against the trans community are some of the worst." Since June 2020, she says the company has seen 30% week over week growth, sold out of the product in December, and is still taking pre-orders.
"Sara and I joined Fast Company Executive Board because one of our goals is to help people understand how safety is actually experienced on a day-to-day basis," says Fitzgerald. "We wanted to reach a broader audience." By sharing their story, the founders hope to inspire other entrepreneurs. "I hope that our story is encouraging to others to know that they can also not just have ideas but do something about ideas," says Fitzgerald, who is also looking forward to connecting with other entrepreneurs. "We're very excited to connect with other founders who are working on really interesting projects, to learn from their stories, and also create partnerships to help our businesses grow together."