For Viveka von Rosen, Fast Company Executive Board Yields Added Credibility and a Boost in LinkedIn Followers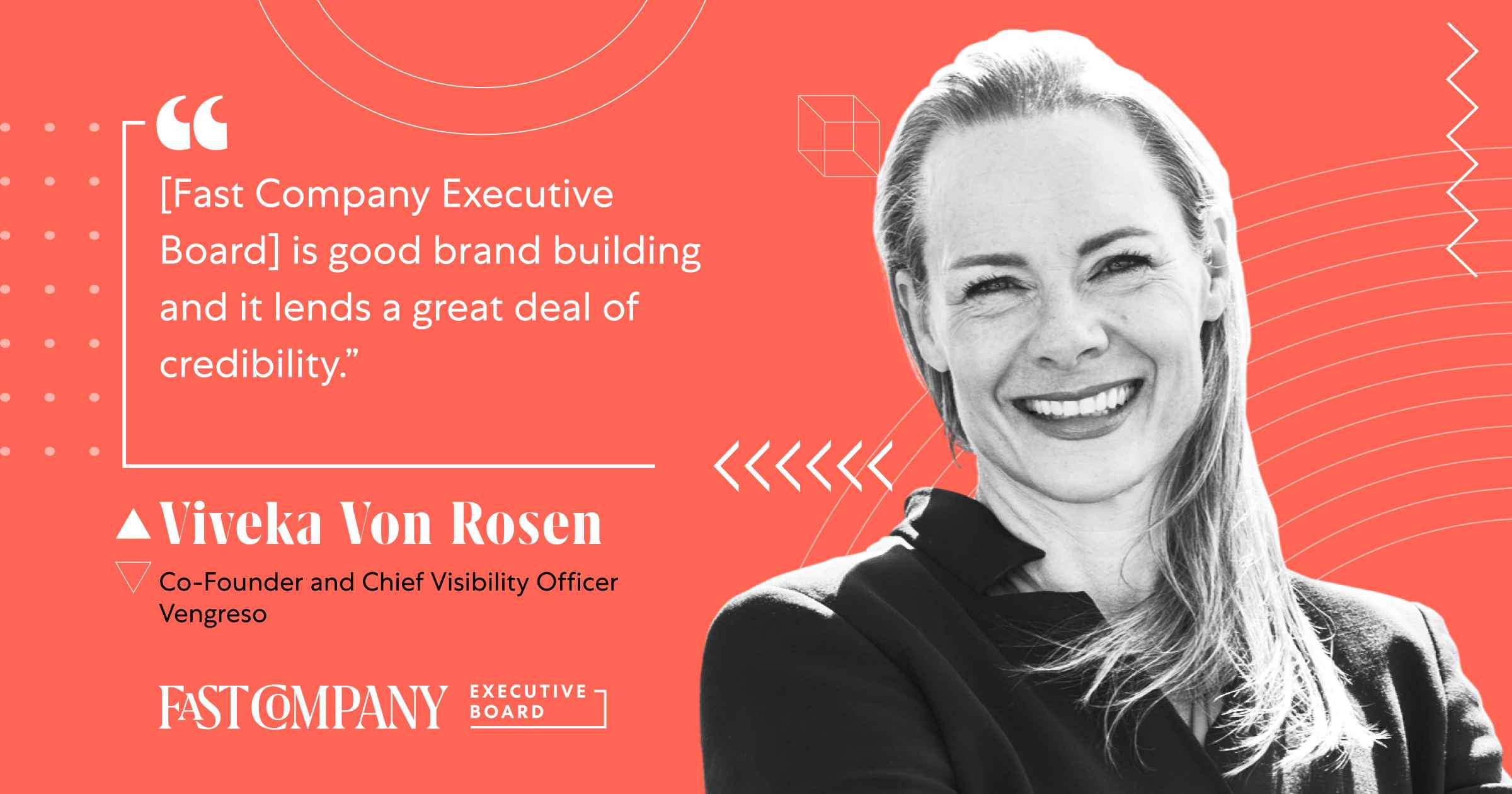 Viveka von Rosen was running a coworking space, organizing networking events with speakers for her members, when she stumbled upon an idea for a business. It was 2005 and von Rosen had brought in a woman to talk about Web 2.0. "At the very end of her talk, she talked about this thing called LinkedIn," von Rosen recalls. "I thought, 'oh, that's really cool. I want to learn more about that.' And so I dove into it and started teaching about it, just locally."
Before she knew it, von Rosen was receiving an increasing number of requests to speak about LinkedIn, and not just locally. "And from there, it just kind of blossomed," she says. "I started a blog, I started teaching a little bit more, and then eventually, I was able to quit my day job and teach and train on LinkedIn, full time." She was even approached by publisher Wiley, to write a book, LinkedIn Marketing: An Hour a Day.
Two of von Rosen's most important LinkedIn tips:
– A profile should not just be a resume, but rather a resource for potential clients. "You need your profile to be focused on their needs, just like any good marketing or sales piece," she says. "It's not about you, it's about them."
– Focus on relationships, not selling. "People try to sell on LinkedIn before they've earned the right," von Rosen says."We teach people how to first how to build a relationship before they even ask for the invitation to connect, and then how to continue to nurture that relationship before going for the sales pitch."
When her current partner, Mario Martinez, first approached her in 2016 about starting a company together, her answer was a polite but firm, "no thanks, I've got my own company and I'm very successful." But when he came back a year later with an ambitious plan to "take over the social selling world" with a few other team members already on deck, she decided she was ready to make the leap from solopreneur to co-founder.
"I went from 32,000 followers to 48,000 in a year and I think a big part of that has to do with my engagement with Fast Company Executive Board."
The company they founded, Vengreso, was focused primarily on B2B sales and marketing leaders. "It's very much about aligning the sales and marketing message and basically getting them to understand the power of virtual selling," says von Rosen. "Our unique selling proposition is that we were some of the best known social selling trainers in the world, and then we brought all of our networks together."
As a company that uses virtual training to teach teams how to sell virtually, Vengreso was insulated from the negative effects of COVID. At the onset of the pandemic, live training kickoffs were taken online and, says von Rosen, "we continued to tweak our learning management system so that it was more interactive and held the attention of our learners." The company grew from seven employees to 38.
Currently, Vengreso is pivoting to become a software company, and will leverage a productivity product originally created to help its clients. FlyMsg is a text expansion tool with built-in scripts used for sales training. While von Rosen says the intention was not to offer it to the general public, the tool was so popular and user-friendly that the company began getting requests to make it more broadly available. So a year ago, Vengreso launched FlyMsg as a free Chrome extension. The founders will seek outside funding to expand the software to include scripts for additional disciplines, such as HR and customer service. Users will be able to access additional training for a fee. "It'll be a slow pivot to eventually being a totally different company," von Rosen says.
As a fan of the brand for many years, von Rosen was eager to join Fast Company Executive Board. "Being a regular contributor with a media source that I like and trust and want to be aligned with was a great opportunity," she says. "It's good brand building and it lends a great deal of credibility." Since she's been an Executive Board member, von Rosen says she's seen a 30% increase in her LinkedIn followers. "I went from 32,000 followers to 48,000 in a year and I think a big part of that has to do with my engagement with Fast Company Executive Board," she says.