Fast Company Executive Board Publishing Gives Misty Larkins Increased Authority With Clients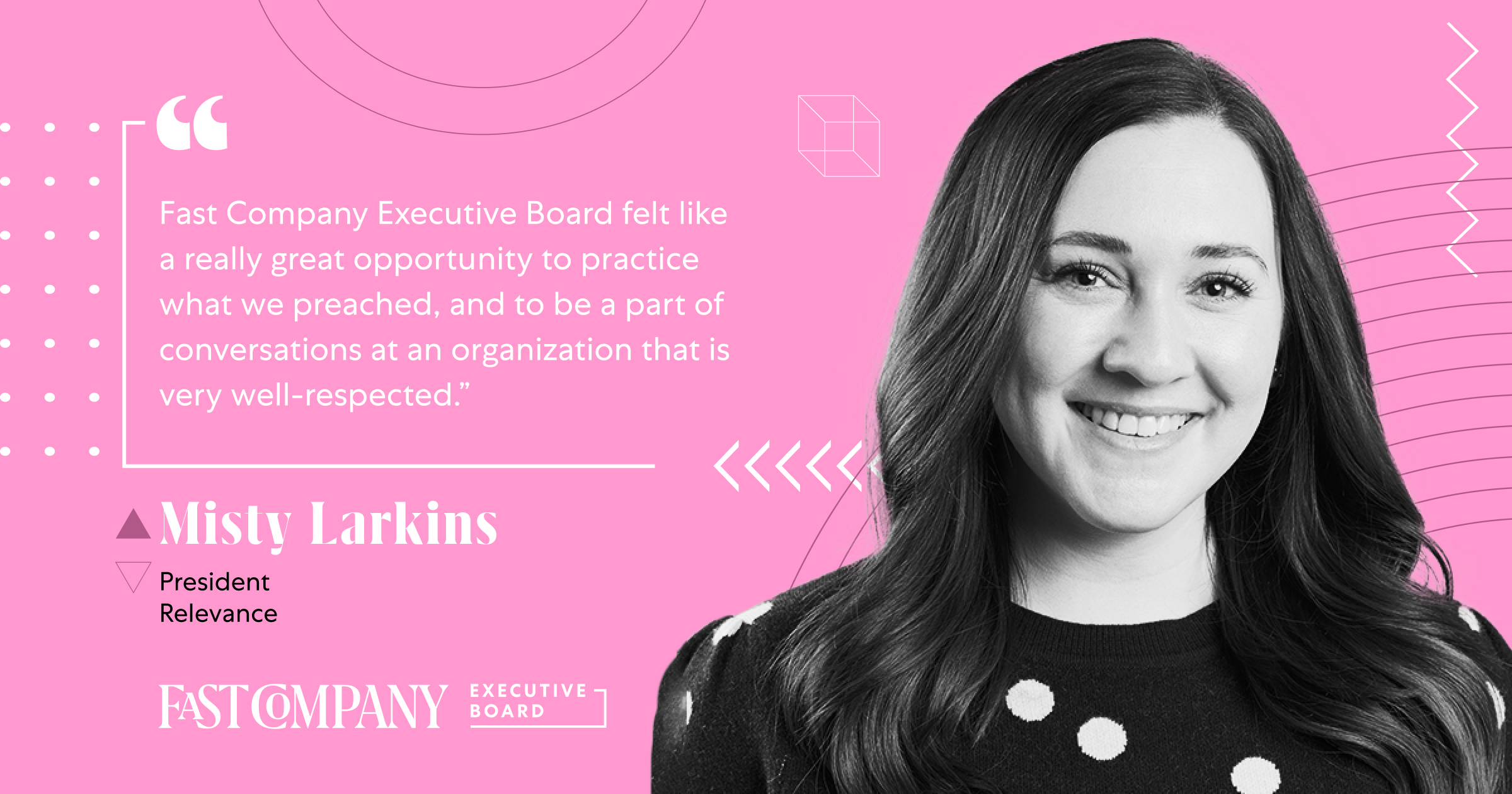 Misty Larkins had several years of experience in marketing, PR, and advertising before she was tapped by the owners of Relevance to help spearhead the growth of their digital marketing agency. "It was a very profitable agency with lots of great success but it wasn't very scalable," Larkins recalls. "So what I've done over the last four years is figure out how to make the agency a well-oiled machine that can take on even more."
Along the way, Larkins grew the company from four employees to 25 and earned a position as Relevance's president. Her mission was not only to grow the team, but to put in place systems and procedures that would make scaling easier. That involved analyzing client success and figuring out how to make good outcomes replicable so that account teams could be more efficient and effective. Project management software, repeatable workflows, and a deep dive into the industries that the agency was best suited to serve all came into play.
"I was there for about a year before everyone went into lockdown," says Larkins, recalling the early days of the pandemic. For close to a year, Larkins and her team took advantage of the temporary slowdown to implement operational systems that she says expanded the capacity of the entire team and allowed the company not just to survive the pandemic but to thrive. "We had a really solid foundation and were also well-diversified in terms of the types of clients we work with, from healthtech to SaaS companies," says Larkins.
Transitioning from employee to leader posed some specific challenges for Larkins. As someone who was accustomed to being very hands-on with clients, she had to learn how to coach and manage others to do what she had always done herself. And she had to adopt a broader perspective. Larkins knew she was good at analyzing problems and figuring out how to solve them in a way that helped her team, but she also had to continually think about what the company would look like in three to five years. "The biggest transition for me was to train my brain into thinking about the big picture versus one siloed area of how we were going to execute for a client," she says.
"[Fast Company Executive Board] gives me the opportunity to be part of a group of people who are just awesome. Hearing some of the challenges that they were going through, and how they were creatively solving problems, made me feel like I was not alone."
Relevance's value proposition, says Larkins, lies not just in the digital marketing and PR space, but in helping its clients think strategically about their growth. For instance, the company helped a longstanding client in the healthtech space create content that positions them as an industry authority. "Not only did we help make them competitive against sites like WebMD, Mayo Clinic, and Planned Parenthood, but we've helped them expand into other service lines, such as skincare and mental health," says Larkins. "We really helped them expand their digital footprint, and it turned into a very trackable return on their investment."
Since she's taken the helm of the agency, Larkins says the company has evolved from being "a tool in someone's toolbox" to acting as a true strategic partner that understands business goals and helps clients map out a plan to establish authority, credibility, and visibility. "We're always telling people that if they want to own their industry, a part of that is being engaged in and leading conversations that are relevant to you," she says. But Larkins realized that Relevance was not following its own advice. Joining Fast Company Executive Board is part of her strategy to correct that.
"Fast Company Executive Board felt like a really great opportunity to practice what we preached, and to be a part of conversations at an organization that is very well-respected," Larkins says. "It also gives me the opportunity to be part of a group of people who are just awesome." At her first online meetup, she recalls being impressed with the high quality of the conversation and the value of connecting with other business leaders. "Hearing some of the challenges that they were going through, and how they were creatively solving problems, made me feel like I was not alone," she recalls. "It helped me expand the scope of my thinking."
Larkins is a regular contributor to Expert Panels, where she offers her insight on a broad range of topics. "We share the articles with our network and use them as a point of credibility," she says. "We encourage our clients to leverage and take advantage of thought leadership. Now, we can say 'we're telling you to do this, and we do it ourselves.'"