Fast Company Gives Ashleigh Vogstad a Platform to Connect With Other B2B Thought Leaders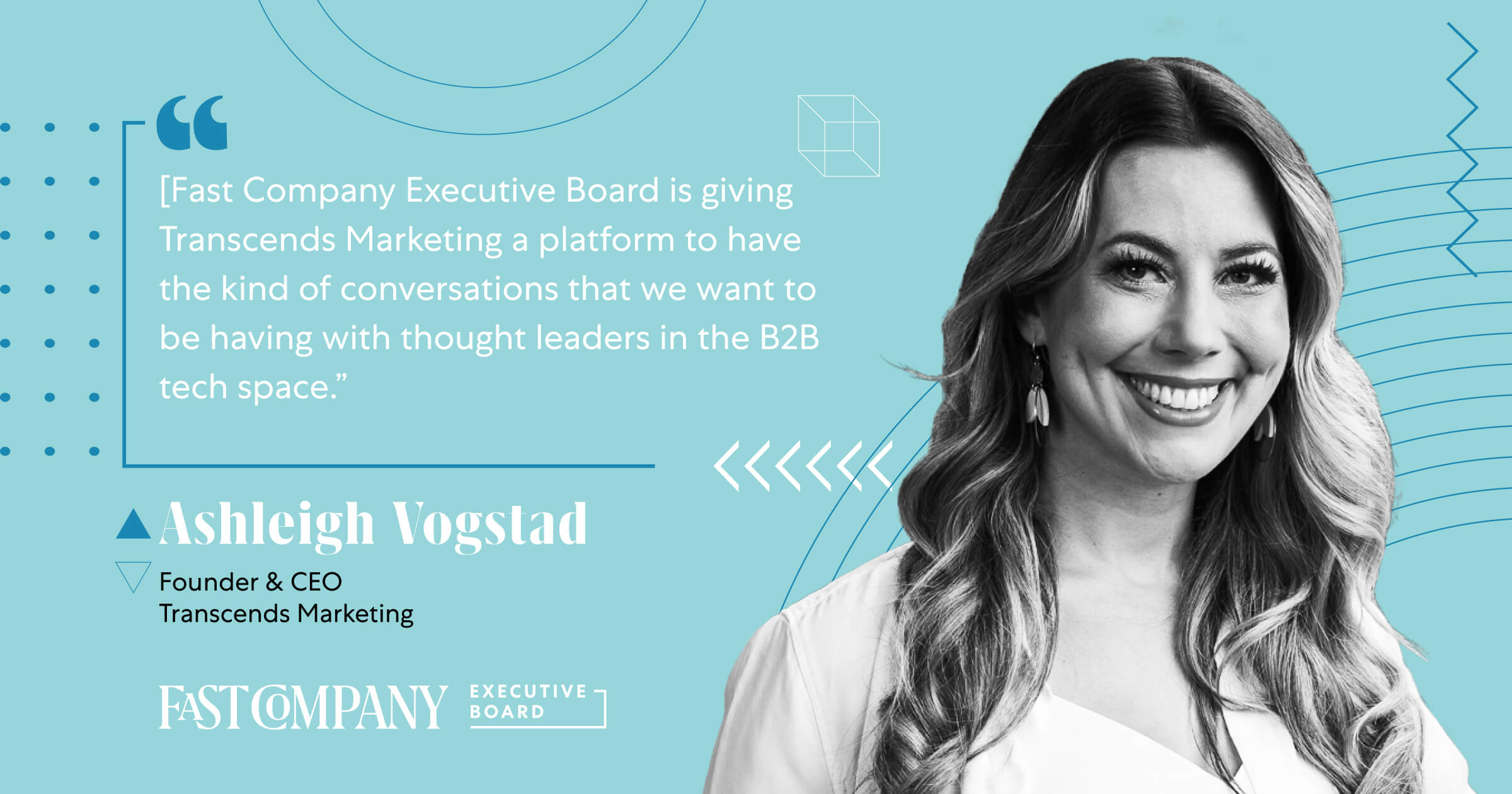 Ashleigh Vogstad had a few years as a digital marketing entrepreneur under her belt when, in 2017, she decided to pack her bags and move to New Zealand. A Canadian, she had spent most of her career working in the U.S. in senior level marketing roles. Through her first agency, Global Bend, she had served high profile clients such as the United Nations Foundation, Aveda, and the Dalai Lama Center for Peace and Education. The desire to make a big life change and her enthusiasm for all things outdoors drew Vogstad to New Zealand. On a new continent, "I fell back into my consulting background and started providing CMO level services to some tech companies," she says.
It was in New Zealand that Vogstad stumbled upon a marketing niche that would turn out to be a major growth opportunity. "I found out from these tech leaders that they were paying for my services from money they had gotten from Microsoft," explains Vogstad. "Then I learned the acronym MDF — marketing development funds." Tech giants such as Microsoft, Oracle, Google, and SAP allocate marketing dollars to companies that use their technology. If those customers experience growth, so will the companies that provide the technology that's under the hood. "That was a real eye-opener for me," she says. "And I wanted to see how I could leverage this opportunity."
Through the expat community in New Zealand, Vogstad met a senior Microsoft executive and that connection led to a meeting at the company. As it turned out, Microsoft had realized a huge (210x) ROI on a program that Vogstad had worked on with one of their clients. "I worked exactly the same way as I would have in the U.S. market, using the same tactics, but in New Zealand the success was leaps and bounds ahead of the success that we had in the U.S.," she recalls.
"[Fast Company Executive Board] has been an incredibly rewarding experience. For me, it's a kickoff opportunity to really establish a voice and thought leadership in channel marketing and other topics that I'm passionate about."
Thrilled with her results, the folks at Microsoft New Zealand had a proposition for her: start an agency, and they'd be game to refer her to clients and/or pay for her marketing services. So her second digital marketing firm, Transcends Marketing, was born. "The pain point for Microsoft is that they distribute these funds to companies that may or may not have marketing teams and that aren't experts in compliance," says Vogstad. "We're essentially in the middle, doing the work." By focusing on that niche — called channel marketing — Transcends became a preferred supplier of marketing services to Microsoft and its 400,000 partners, and soon expanded into Singapore and the U.S.
But the big boost for Vogstad's company, which now has 20 employees, came at the beginning of the pandemic, in March 2020. Because of COIVD fears, Microsoft slashed its events budget and the company was looking to re-allocate those funds. Vogstad was asked to help create an alternative program to help Microsoft's partner companies grow amid market uncertainty. "We ended up taking on 21 new clients that week," Vogstad says. "And we decided as a team that we wouldn't hire, we would all dig in our boots and we worked insane hours." Why? Given the uncertain business climate, she wasn't entirely sure what her revenue outlook would be for the rest of the year and she didn't know if she'd be able to continue to support additional staff.
The campaign, which focused on lead generation, was so successful that it was turned into a case study and rolled out on a global level. "It really grew our business," says Vogstad. "What we thought would be a one-time thing was really just the beginning."
Vogstad says the first time she shared one of her Fast Company Executive Board articles on LinkedIn "it was the most popular post I've ever had. I believe it's very good for business. I think that it's giving Transcends Marketing a platform to have the kind of conversations that we want to be having with thought leaders in the B2B tech space." Vogstad adds that her involvement with the Executive Board has been "an incredibly rewarding experience. For me, it's a kickoff opportunity to really establish a voice and thought leadership in channel marketing and other topics that I'm passionate about."