Fast Company Executive Board Connects Barry Fiske With a Riveted Audience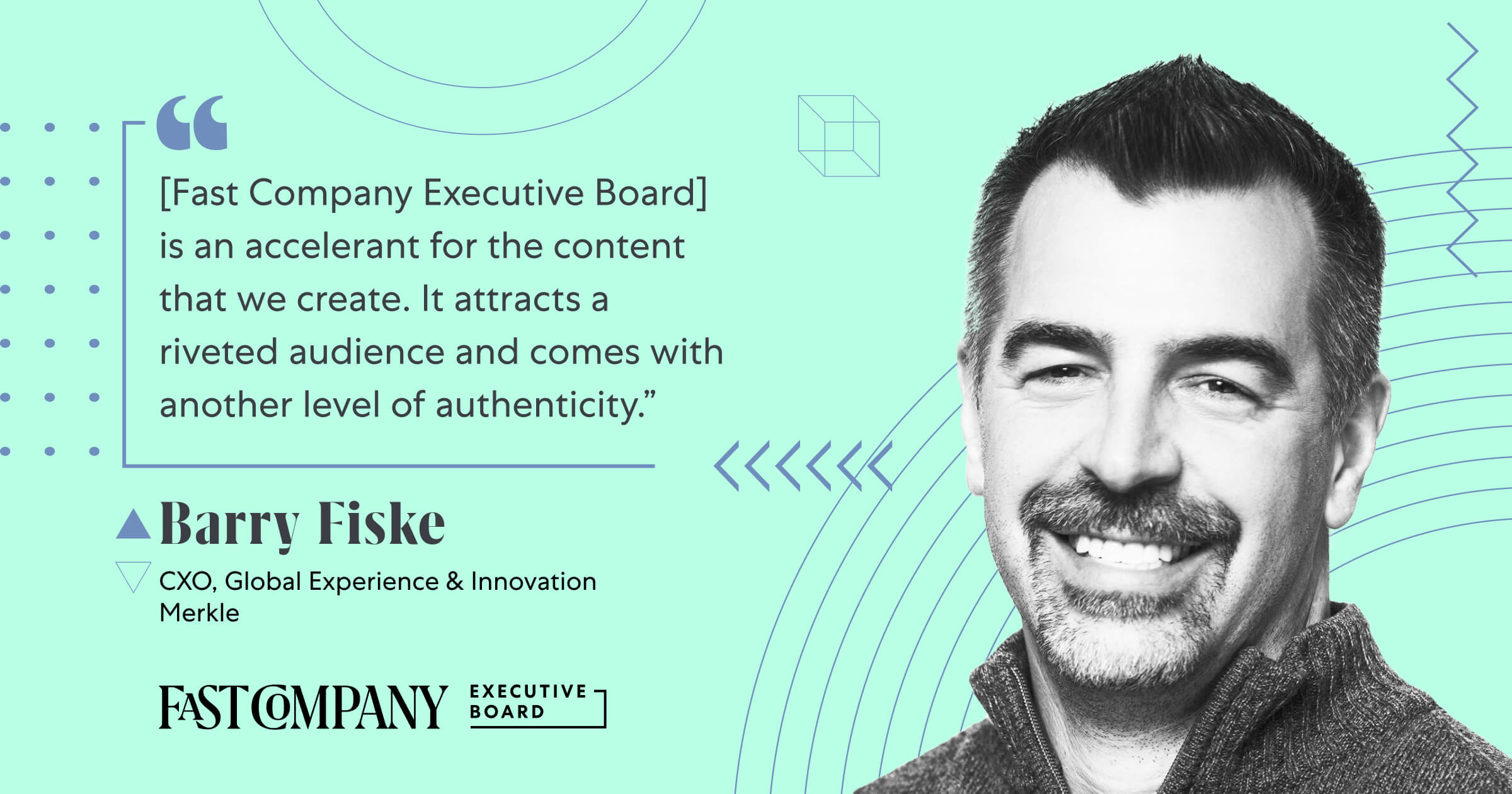 With nearly thirty years of agency work under his belt, Barry Fiske has seen his industry — and his own career — undergo some massive changes. He started out at big agencies such as TBWA/Chiat/Day, working on television commercials and advertising campaigns for large brands. He then moved on to digital agency work, building the creative capability of Sapient, which was acquired by Publicis. Now, he's chief experience officer at Merkle, where he manages teams of creatives who help companies create digital experiences. "I like working on brands that make a huge impact on people's lives, where you can do some really transformational work," Fiske says.
For instance, his team is creating digital experiences for General Motors, building websites that promote the company's foray into the home energy sector, with home charging stations for EVs, as well as solar panels. "We do work such as GM EV Live, which is like a live showroom where you can actually test drive or tour a vehicle almost entirely through video," says Fiske. His team has also worked on Starbucks Odyssey, the company's new loyalty program that uses Web 3 technology, including gamification and NFTs, to reward customers.
"What I'm proudest of these days is that I'm a builder," Fiske says. "I built the creative capability at Sapient and now I'm building it here at Merkle, a company that people really think of as a technology and data company."
In October of 2020, Fiske had joined a company that was acquired by Merkle a year later. That meant he was navigating professional changes at the same time the pandemic was raging. "Working in a digital agency we had always been using cloud-based tools," Fiske says. "When the pandemic hit, it was like nitro fuel and everything really took off. A lot of our clients were used to being in the office and requiring our teams to be in the office because of security protocols," says Fiske. "They went from that to being 100% virtual and right now they're learning that they can actually do business virtually." According to Fiske, he was able to quadruple the size of his virtual team in order to meet increased demand from clients who accelerated their digital and social commerce initiatives.
"I also have a podcast and I've been able to find some great guests through the community. It's a really valuable model that Fast Company [Executive Board] has built."
The pandemic, Fiske says, definitely opened up the talent pool. "I was always hiring nationally but the pandemic really allowed me to walk away from having big teams in expensive cities like New York and San Francisco," he says. But managing virtual teams at a large company can be a challenge.
"The first thing to recognize is that it's still a team and everything that makes a team successful still applies," Fiske says. To that end, he groups his 250 employees in 12-15 person teams and assigns projects to them as a team, rather than drawing on the entire pool. "They know each other's strengths and weaknesses, they can finish each other's sentences, and they know how to be really efficient and effective," he says.
Cloud-based tools are also essential to the success of virtual teams. He uses services such as Mural, Figma, Loom, and Microsoft Teams to keep his employees communicating efficiently in a variety of different time zones.
Going forward, Fiske says he has his eye on a couple of trends that will be sources of new business. The healthcare industry, he notes, is evolving as companies that profited from making vaccines now have the funding to transform their business models. He also thinks that over the next 16 months, more and more companies will be creating their own online marketplaces, creating "mini-Amazons" that sell not only their own products, but those from other companies. "It's a huge thing that's happening right now,' says Fiske. "It allows brands to service the full needs of their customers, even with products that they don't personally make."
Fast Company Executive Board, says Fiske, "is an accelerant for the content that we create. It attracts a riveted audience and comes with another level of authenticity." Through his contributions to Expert Panels and his participation in online events, he becomes more aware of other points of view and makes new professional connections. "I also have a podcast and I've been able to find some great guests through the community," he says. "It's a really valuable model that Fast Company [Executive Board] has built."