Through Fast Company Executive Board, Kelley Higney Shares Her Perspective to Help Others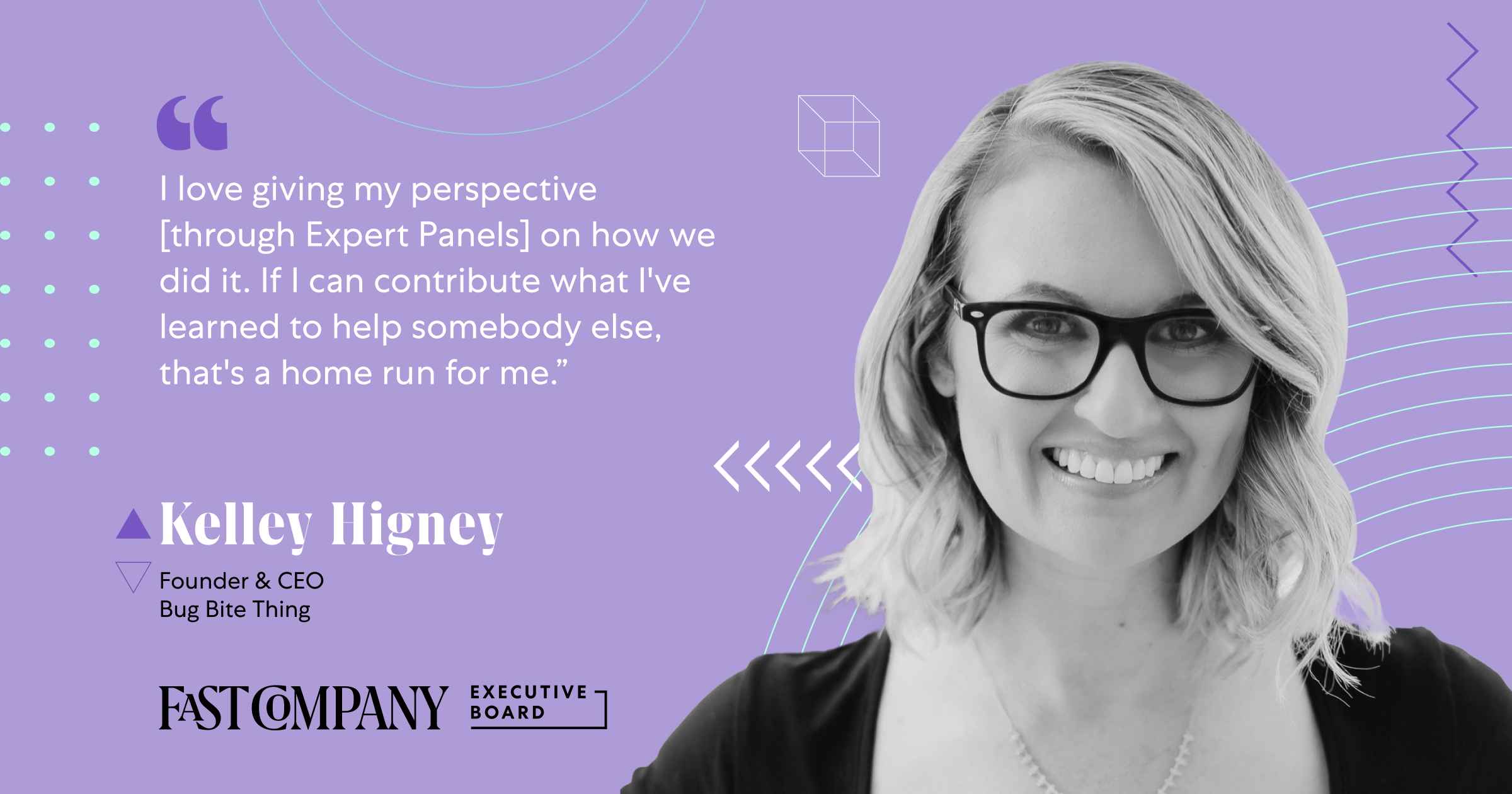 You could say that Kelley Higney was genetically predisposed to become an entrepreneur. Her grandparents started A.C. Kerman out of their garage and grew it into one of the largest specialty distributors and exporters of fishing tackle and outdoor gear. Higney's mother, Ellen McAlister, took the helm as president of the company in 1987, and Higney began working with her mother in 2002, fully expecting to take on the lead role at some point. In fact, Higney had moved with her young family from San Diego to Florida to be closer to her mother and the business. And then fate intervened.
"We moved and, almost immediately, we started dealing with bug bites," recalls Higney. Her six-month-old daughter had extreme reactions to mosquito bites, which turned into golf ball-sized welts and then blistered. Over-the-counter remedies failed, plus Higney hated using the chemical-laden products on the infant. "I was in this constant battle and nothing was working and I was also a mosquito magnet, so I was suffering terribly," Higney says.
Through her international connections at work and her own research, she found an obscure suction tool that was being sold through industrial first aid kits in Japan. It was a syringe-like device that drew venom and other irritants out of the skin at the site of an insect bite. Higney was as skeptical as she was desperate. "I ordered it not thinking much of it," she says. The day it came, she was bitten on the way to the mailbox so was able to test it on herself immediately. "I was dumbfounded," she says. "All the itching, swelling, and pain went away in 30 seconds." She tried it on her daughter and the child's welts dissipated into tiny dots the next day.
Higney tested the tool, which is reusable, on family and friends and got the same results. So she tracked down the factory that made the product, in Denmark, and began ordering small batches. "I started selling them at bake sales," says Higney, "and that was my proof of concept." When moms started tracking her down in parking lots to buy more, she knew she was on to something. So Higney went back to the factory owner and negotiated exclusive distribution rights for the U.S. She branded the product Bug Bite Thing and sold her house to invest in her first big batch of inventory.
"I'm a huge reader of articles and I'm a big believer in the power of minds and collaboration. When multiple brands give their perspective from their respective industries on certain topics — that's always extremely intriguing to me."
In 2017, she quit A.C. Kerman ("in a nice way") to focus on her company full-time. She moved to a rental house with a bigger garage so she could run her operation from home, taught herself social media marketing, and enlisted family and friends to help pack orders. And then lightning struck. A producer from Shark Tank saw one of her social media posts and encouraged her to audition. "And that's when I said, 'I can't do this by myself,'' recalls Higney. She needed her mother's 30+ years of business experience, so the two joined forces and pitched the sharks together. "They all made offers," says Higney. She and her mother chose Laurie Greiner as the lucky investor and Bug Bite Thing has been going gangbusters ever since.
Higney says her success has largely been driven by consumer demand, with retailers such as Academy Sports + Outdoors reaching out to her because customers wanted to purchase Bug Bite Thing. "I can't emphasize enough that when there's a demand for your product, everybody else and everything else will fall into place," she says.
To satisfy growing demand and to position Bug Bite Thing as a global brand, Higney partnered with the Denmark factory to make and sell her branded product throughout Europe. The agreement, which helps thwart potential competitors, means that the factory only sells Bug Bite Thing branded devices, not the unbranded products that Higney first discovered in first aid kits. And European manufacturing of the product, which is considered a medical device, means it adheres to strict safety guidelines and has earned CE certification, a guarantee that it has met EU health and safety standards. That gives Higney a leg up on potential knockoffs. "A big-box retailer is not going to put a made in China product in their store that's not CE certified, that's not FDA registered, that hasn't gone through clinical testing," she says. And imitators won't have the Shark Tank imprimatur, she adds.
Higney describes herself as "a mom on a mission" whose goal is to get her product into as many glove compartments, purses, and backpacks as possible. "We have over 40,000 reviews on Amazon and it's my story over and over and over again," she says. "It's a much bigger problem than anybody's bringing awareness to and that's been my driver." The company is now in 25 countries and will soon expand its market with new products.
"I'm a huge reader of articles and I'm a big believer in the power of minds and collaboration," says Higney. As a Fast Company Executive Board member, she's a regular contributor to and a big fan of Expert Panels. "When multiple brands give their perspective from their respective industries on certain topics — that's always extremely intriguing to me," she says. "I love giving my perspective on how we did it. If I can contribute what I've learned to help somebody else, that's a home run for me."