Jessica Thorpe Shares Industry Insights Through Fast Company Executive Board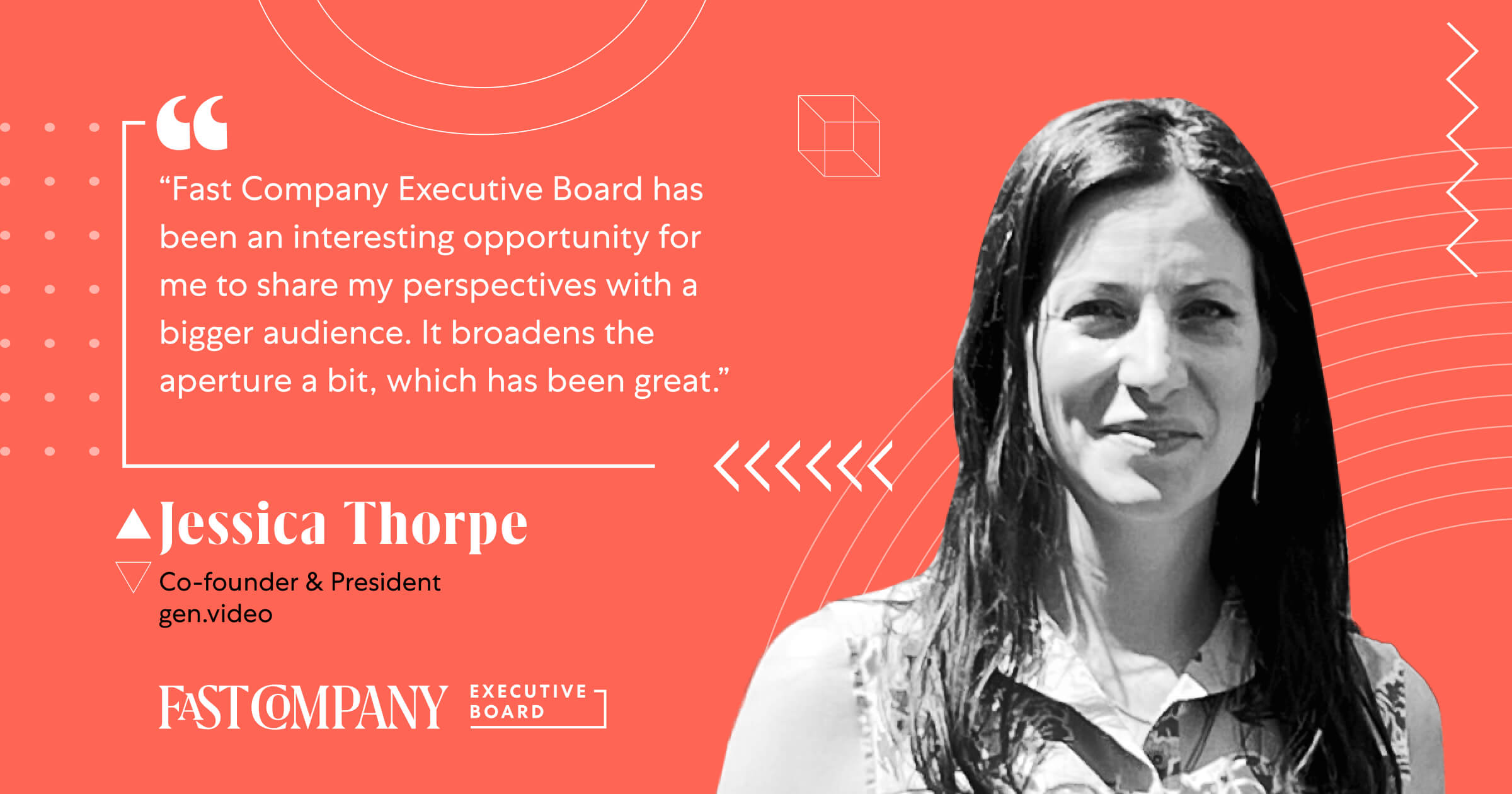 Jessica Thorpe was the COO at EXPOTV, a video- on- demand shopping network, when she perceived a market shift that she thought could be a huge opportunity. Some traditional marketing strategies, such as word of mouth, ratings, and reviews, were getting stale. At the same time, around 2016, influencer marketing was gaining traction. Thorpe and EXPOTV's CEO, Bill Hildebolt, decided to join forces as co-founders of a new iteration of EXPOTV that focused on influencers. They renamed the company gen.video.
"To capitalize on the opportunity, we needed to reinvent the company," says Thorpe. "We needed to meet the creators where they were so that gen.video could embrace this new generation of content creators and video content in a way that was influencer-centric." Thorpe and Hildebolt already had long relationships with Fortune 100 companies such as P&G and LG. Their value proposition was the ability to connect those companies with the right influencers who could drive sales to channel partners such as Target, Walmart, and Amazon. A successful influencer program that results in more traffic to a retailer will give a brand more negotiating power, explains Thorpe. Her company recently conducted research showing that influencers have surpassed families, friends, retailers, and brands as trusted sources of information.
Gen.video has relationships with tens of thousands of influencers and finding the right fit for brands and managing those relationships is part of the company's secret sauce. "When a brand engages with gen.video, our account management team will have conversations to understand what the objectives are," says Thorpe. "Are they trying to go viral, drive awareness, or are they trying to drive traffic and sales?" The choice of content creator varies dramatically depending on the desired result. When vetting potential influencers, gen.video looks at bios, data on median viewership or impressions, and recent engagement rates. "We're only giving our brands the best of the best — people who have acknowledged that they can do the job in the timeframe and within the budget," says Thorpe.
"Having a platform [like Fast Company Executive Board] that allows me to share some of my learnings — the good, the bad, and the ugly — is really helpful."
After a contract is signed and the content is created, gen.video handles retail distribution. Clients can manage everything on the company's platform, including content submissions, creative briefs from the brands, review and approval of content, and tracking analytics.
Thorpe says that influencer marketing is used by companies for a variety of purposes. For instance, long-time client HP uses gen.video to work with some of the biggest influencers in the world to drive brand awareness when they are launching new technology products, such as gaming laptops. A different team within HP might set its sights on 10 or so "miniature influencers" to drive traffic to its online store in order to sell printers. "The trust and partnership that's developed over time has allowed us to use our platform to build out a roster of creators that we can tap into for any business unit for any objective," says Thorpe.
The pandemic gave the company a big boost, says Thorpe. "It did really put into perspective for brands how far behind they were in thinking about the importance of ecommerce," says Thorpe. Many brands scrambled to catch up and gen.video was able to grow its ecommerce practice as a result. "We've been able to establish ourselves as experts, and can guide people wherever they are in that journey for their brand," says Thorpe.
As a member of Fast Company Executive Board, Thorpe is a prolific author of bylined articles and a regular contributor to Expert Panels. As the recently appointed executive director of the Influencer Marketing Association, a nonprofit that helps raise standards and benchmarks data for the industry, she has access to a lot of valuable industry information. "Having a platform that allows me to share some of my learnings — the good, the bad, and the ugly — is really helpful," she says. "Fast Company Executive Board has been an interesting opportunity for me to share my perspectives with a bigger audience. It broadens the aperture a bit, which has been great."