Fast Company Executive Board Helps Lisa Bichsel Amplify Her Company's Marketing Efforts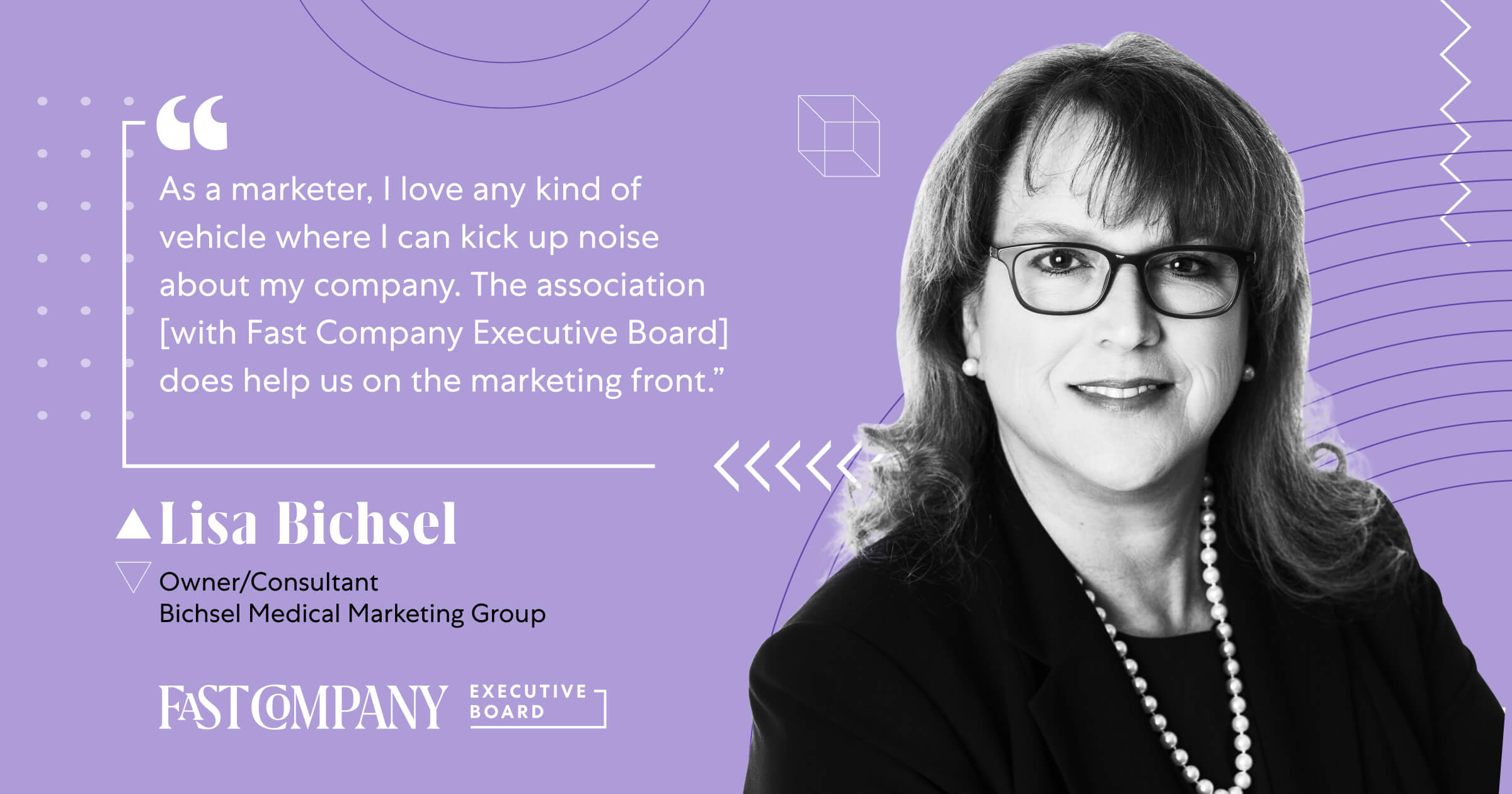 For the better part of her career in medical technology marketing, Lisa Bichsel had worked at early-stage companies that were headed for acquisition or an IPO. "The happiest moments in my career were usually in that small startup environment," recalls Bichsel. She liked the familial atmosphere; the "work hard, play hard" culture; and the ability to pivot and make quick decisions without slogging through a bureaucracy. So when the last company she worked for was acquired by the medical device giant Medtronic in 2014, Bichsel decided to "control my own destiny" by starting her own company, Bichsel Medical Marketing Group (BMMG).
The company's typical client is an early-stage med tech company with a CEO who is focused on commercialization of a product but that lacks a marketing team. Startups that are setting their sights on acquisition usually want to keep headcount low, Bichsel explains. "They don't mind outsourcing marketing," she says. "We fill a need when they start seeing commercialization on the horizon, and we help them prepare for that, to actually launch, and grow their brand to make them more attractive for acquisition."
Because she'd been in the industry for such a long time and had built up a solid reputation, Bichsel had clients knocking on her door as soon as she launched her company. One of her first clients was a neurosurgical company with a device that could ablate lesions and brain tumors through a pencil-sized hole in the brain. Another was in the orthopedic space and manufactured equipment to improve alignment and therapy delivery for various orthopedic diseases. Marketing for companies like these is initially B2B, says Bichsel. But while a campaign may start out with efforts to reach physicians and health care facilities, it eventually shifts to include patients. "You don't jump too fast to that or you're going to make the physicians mad," says Bichsel. The bulk of her clients are now focused on diagnostic imaging, gastroenterology, dermatology, orthopedics, and neurosurgery.
"When Fast Company Executive Board approached me, I was like 'hell, yeah' because it has been a goal of mine to somehow be recognized by Fast Company. I'm very happy to be part of it, and I have been very active."
COVID changed Bichsel's business significantly. Sales reps were no longer permitted to come into hospitals and doctor's offices to pitch new technologies or present clinical data. Virtual trade shows, social media, and targeted texts and email took the place of in-person interactions. Nonetheless, BMMG tripled its business in 2020. "A lot of our clients were letting go of staff and were leaning on us even more heavily," says Bichsel. "And others who were not our clients were looking for someone they could outsource to." Her staff also encouraged clients to invest in new technology, such as telehealth services or, in the case of a medical device maker, virtual training sessions for doctors.
Bichsel says she doesn't worry much about competitors because she doesn't believe she has any. "We're not a marketing agency, we're not a PR firm, and we're not an advertising agency," she says. "But yes, we do all those things. We are a medical marketing department for hire." Her full-time staff of seven, along with a stable of 30 or so contractors, are all well-versed in HIPAA compliance, anti-kickback statutes, and writing copy so as not to breach FDA rules on advertising and promotion. "Clients don't need to explain anything to us," Bichsel says. "They can lob it over the fence to us and we hit the ground running. Not many marketing firms can claim that."
Shortly after she started her first company, in 1990, Bichsel superimposed a photo of herself on a cover of Fast Company magazine and put the image on the wall. "When Fast Company Executive Board approached me, I was like 'hell, yeah' because it has been a goal of mine to somehow be recognized by Fast Company," Bichsel says. I'm very happy to be part of it, and I have been very active." She's thrilled to be associated with a brand that she respects, and one that recognizes her achievements. "As a marketer, I love any kind of vehicle where I can kick up noise about my company," she says. "I want that kind of credibility and the association [with Fast Company Executive Board] does help us on the marketing front." Bichsel contributes regularly to Expert Panels and promotes the articles heavily on social media.