Fast Company Executive Board Forum Gives Anna David Industry Insight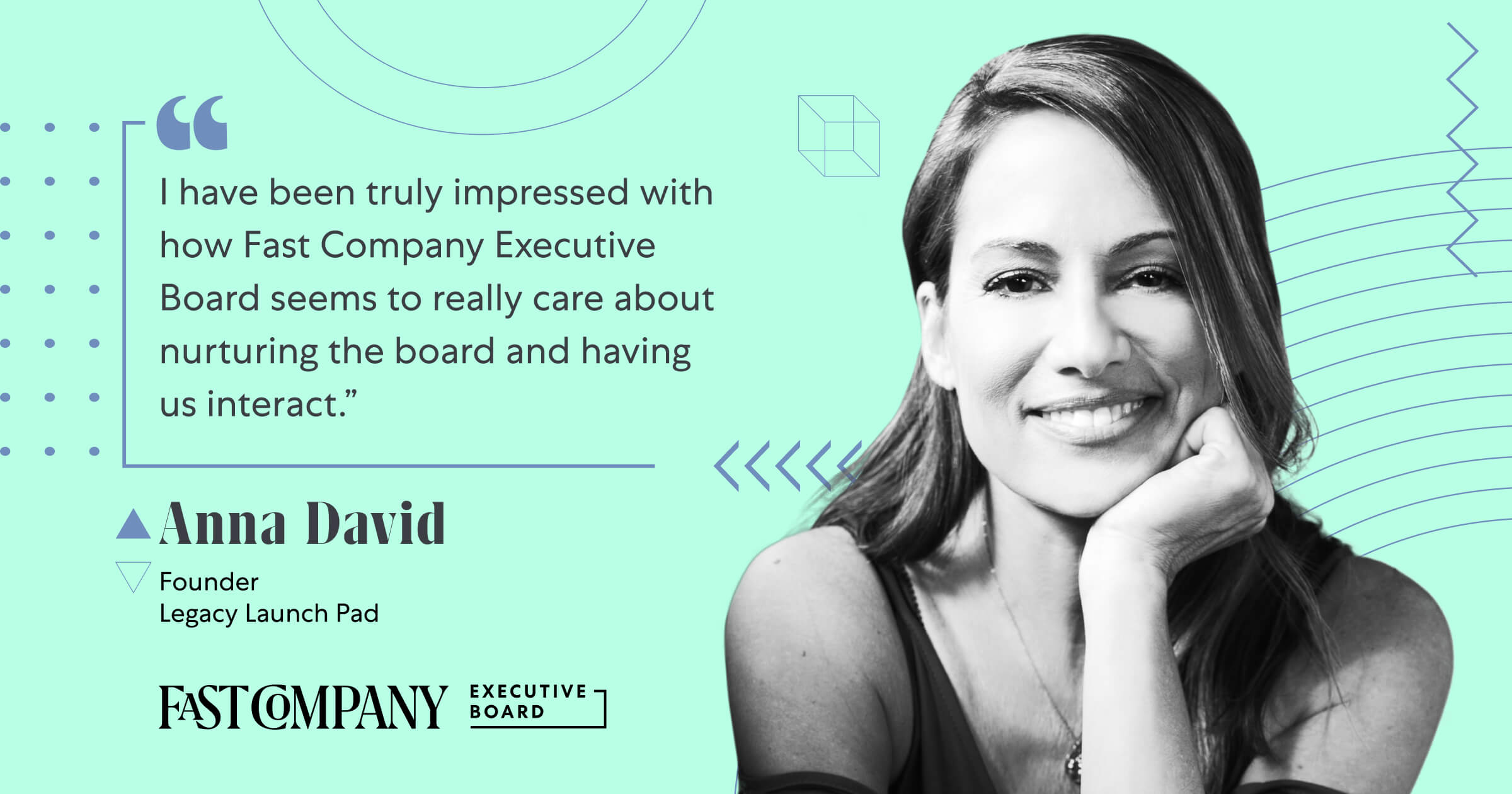 To the casual observer, Anna David was a successful author. She had been on The New York Times bestseller list with her biography, By Some Miracle I Made It Out of There; was a TEDx speaker; and had appeared on Good Morning America and Today Show. But there was just one problem: she wasn't making enough money. "I was very much caught in the traditional publishing way of thinking," she says. "I just kept doing book after book thinking, 'it's gonna work with this next one.' It was a heartbreak."
David tried a few additional revenue-making strategies, including online coaching and courses for writers. The offerings were reasonably priced, but she still took flack from customers who complained about price and quality. At the same time, she had regularly turned down ghostwriting opportunities from prominent people. And then, five years ago, a friend hit her with a wakeup call over coffee. "He said, 'you have broke, delusional people who you are trying to serve, and you have successful, wealthy people coming to you for help. Why are you putting your efforts into people who don't value you?'" David recalls.
As it turned out, one potential ghostwriting client was very persistent. And at the same time, a writer had come to David asking if she knew of any freelance gigs. A lightbulb went off. Why not pair the two and then edit the final product herself? That first project was the beginning of David's company, Legacy Launch Pad Publishing. Her client had wanted to become an addiction recovery advocate — a topic that David was intimately familiar with, as her first novel drew upon her own experience in that realm. "I watched him take his book, get spokesperson jobs and speaking gigs on TV, and it finally woke me up to the fact that we don't need to make money from book sales," she says.
"By leading the book writing group, I'm communicating directly with people I never would have met who are interested in the same things I am."
More addiction and recovery memoirs came her way, plus her mentor, business coach Joe Polish, sent her clients who wanted to write business books. David pairs clients with a stable of highly skilled writers, edits and designs the final product, and then uses Amazon print on demand for production, and Ingram for distribution.
David leverages what she learned from her days with traditional publishing and insists that authors are very clear about what they want to accomplish and who they want to reach with their books. "I will not take your money unless I know you can earn back 10 to 100 times," David says. "If you don't have a business with clients who pay you a lot of money, you should not do this." One of her first clients, a government consultant, told David that he brought in a half million in new business within a month of publishing.
Legacy Launch Pad's business doubles every year, with little or no marketing effort, says David. And the pandemic gave her an additional boost as more people struck out on their own to pursue their passions, using books as marketing tools.
As a long-time fan of the brand, David was very enthusiastic about joining Fast Company Executive Board. She's a regular contributor to Expert Forums, as well as the author of several by-line articles. "It's been incredibly rewarding," she says. "People are very impressed." She's also very active in the Executive Board's forum, where she is leader of the Book Authors Group. "I have been truly impressed with how Fast Company Executive Board seems to really care about nurturing the board and having us interact," David says. "By leading the book writing group, I'm communicating directly with people I never would have met who are interested in the same things I am." Since publishing has changed so much in the past decade, it's helpful for David to know what preconceptions people still harbor about the process. "I get to find out what people like my potential clients are hearing and thinking," she says.