Through Fast Company Executive Board, Krishna Kutty Reaches a Wider Audience for Thought Leadership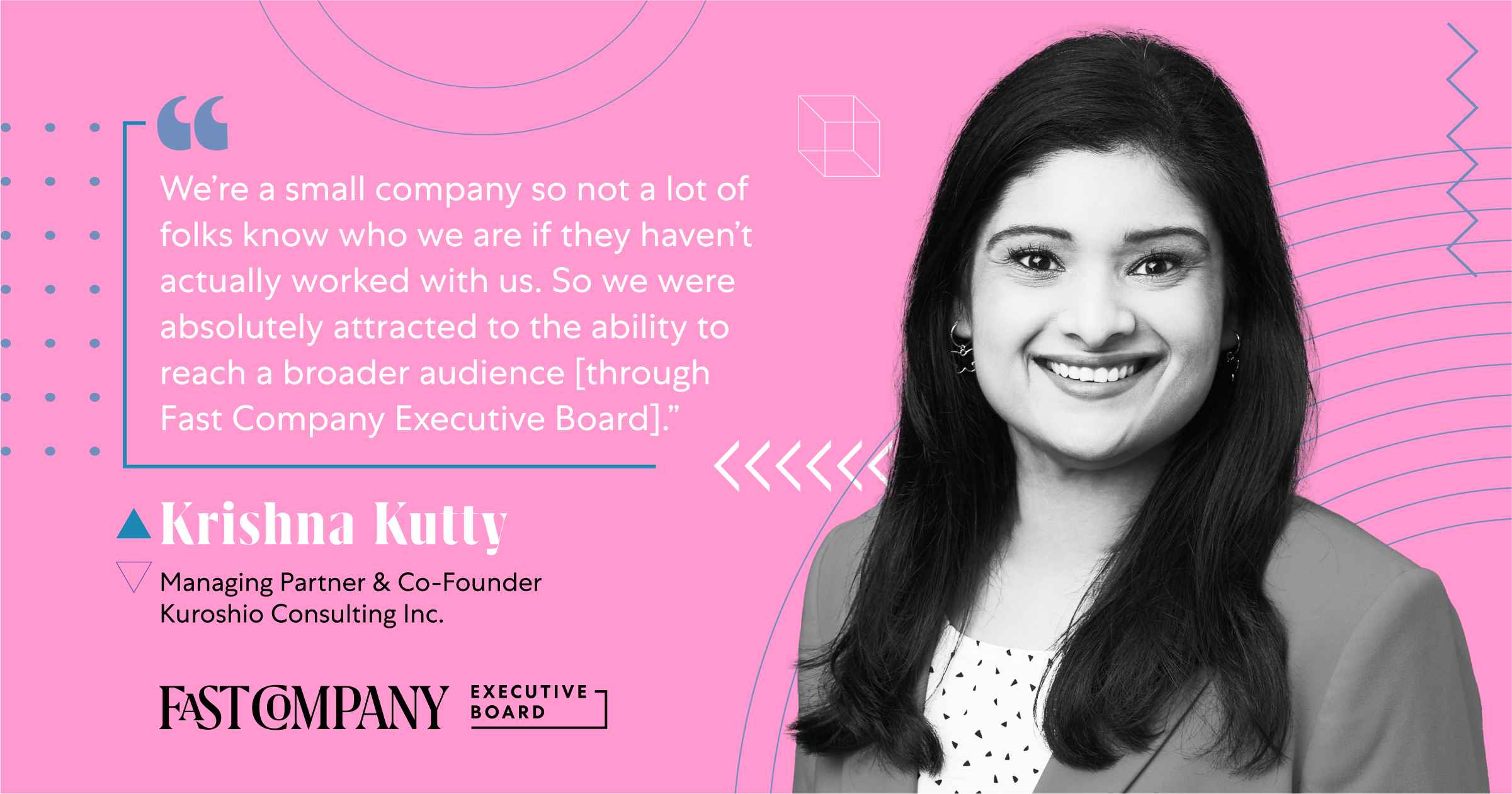 Krishna Kutty had worked for almost two decades at a variety of large companies, where she led large-scale re-engineering efforts, turnarounds, and digital transformation initiatives. Through that experience, she became aware of a troubling pattern. Consultants hired by her employers would spend a significant amount of time at the company, provide insight and advice, and get the leadership team pumped up about the changes they recommended. "And then it would die on the vine," says Kutty. "It would end up as shelfware on some executive's desk because the consultants were not really very pragmatic with respect to implementing their plan within an organizational context." Krishna's sister, Sindhu Kutty, was a consultant who made the same observation with her own clients. "So we said 'let's set up our own shop and see if we can add value that way,'" recalls Kutty. "And it's been a fun ride since then."
The sisters founded Kuroshio Consulting in 2019, drawing upon their respective networks to drum up a stable of clients. As a client of consultants, Kutty had had plenty of experience with engagements that went well and those that went poorly. She's been able to take that knowledge and parlay it into an approach that differentiates Kuroshio from its competitors. For example, the company offers "aftercare" services free of charge from three to six months after the engagement is completed. "If they run into any challenges with respect to implementing the strategy or whatever it is that we provided in terms of service offerings, we're able to support them in their longer term journey," says Kutty.
Kutty says her hiring practices also help position the company in the marketplace. Subcontractors must have 10-15 years of experience as either industry executives or consultants who have witnessed the impact of large-scale transformation initiatives. "We're really focused on making sure that the folks who we bring to the table actually have lived it, which goes a long way with our clients," says Kutty.
"[Through Expert Panels] it's always cool for me to see what other folks are saying as well as to add my two cents. And the articles are a great opportunity to share our insights and perspectives on pertinent topics, and to showcase our voice and who we are."
The firm specializes in corporate strategy, leadership consulting, and organizational change, including digital transformation within a variety of industries like manufacturing, healthcare, and pharmaceuticals. Work in all three practice areas overflowed during the pandemic, Kutty says. "Current mergers and acquisitions cycles are through the roof as are digital transformations, and back end or back office transformations," she says. "So there's absolutely been a huge uptick." The pandemic compelled clients to reevaluate their organizations and to think not only about the future of remote working environments, but about automation and AI. "That really drove a lot of conversations around transformation," Kutty says.
As more companies became comfortable with the inevitability of remote work, Kuroshio's client base expanded. Prior to the pandemic, most clients wanted consultants to be on site, or situated close to their headquarters or operations facilities. Now, many have let go of that requirement. "Now, they don't actually care where their consultants are located," says Kutty. "So that geographic reach exploded for us and now we have clients from coast to coast."
But not all of Kuroshio's clients embraced remote and hybrid work. Some, especially those who had invested heavily in real estate, were reluctant to change. "That continues to surprise me," says Kutty. "Some executives are not being proactive with trying to figure out what their culture looks like going forward." That could spell trouble, as talented employees may be compelled to join "the great resignation" if they aren't offered flexibility. As location becomes less important, companies that previously may not have been competitors for talent are now snatching up top performers. "If companies do want to preserve their current employee base, they absolutely have to consider some sort of a flexible work environment for their employees," says Kutty. "Otherwise, they're just not going to be able to stave off that attrition number."
Kutty had been exploring avenues for publishing thought leadership content when she and her sister heard about Fast Company Executive Board. "We're a small company, so not a lot of folks know who we are if they haven't actually worked with us," she says. "So we were absolutely attracted to the ability to reach a broader audience." Through Expert Panels, she says, "it's always cool for me to see what other folks are saying as well as to add my two cents. And the articles are a great opportunity to share our insights and perspectives on pertinent topics, and to showcase our voice and who we are." She also enjoys monthly meetups with other members. "It's been fantastic to speak with other leaders," Kutty says. "We've had some really interesting discussions in that space and were able to share different perspectives and to work through some challenges and share best practices."