5 Ways Executives Can Reduce and Prevent Employee Burnout in the Workplace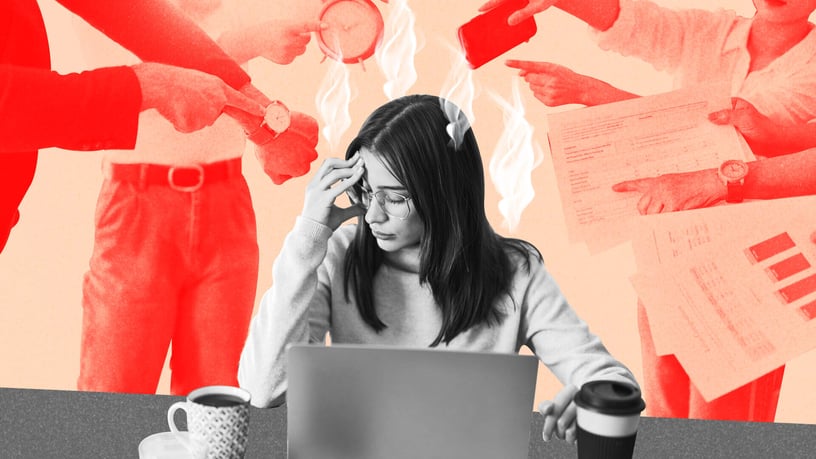 A July 2020 survey of over 1,500 US professionals conducted by FlexJobs and Mental Health America (MHA) found that 75% of people have experienced burnout at work. Burnout is defined by the World Health Organization as a result of chronic workplace stress that has not been dealt with. Burnout is mainly characterized by these three things:
Exhaustion
Feeling disconnected from your job
Reduced workplace productivity
Additionally, the report by FlexJobs and MHA found that only 1 in 5 professionals were able to have open, productive conversations with HR about solutions to their burnout while 56% of respondents said their HR departments did not encourage conversations about burnout. So how can you as an executive mitigate the stress and frustration that leads to employee burnout?
Take a look below at the five ways executives can reduce and prevent employee burnout in the human-centric workplace:
Adopt a wellness culture
Establishing a culture centered around wellness encourages employees to live healthier lives. This kind of culture also encourages employees to urge their fellow coworkers to pursue an ideal work-life balance while living a productive and fulfilling life themselves. Lastly, by establishing a wellness culture at the executive level, the entire organization will understand the importance of overall wellness and employee burnout will become something your competitors have to deal with.
Coach managers on how to deal with burnout
As you most likely don't have direct day to day contact with most of your employees, you'll need to teach your managers how to deal with burnout in their own teams. To do this, you need to start by adequately training your management team. These people have some of the biggest influence over employee morale and retention at your company and proper training makes all the difference.
For example, a 2018 study conducted by Randstad found that "58 percent of workers say that they'd stay at jobs with lower salaries if that meant working for a great boss." By properly training your managers on how to effectively manage their teams while encouraging all aspects of wellness, you'll be able to deal with burnout before it becomes an issue.
Provide work from home options
Adopting a work-from-home policy may not work for every company, but for many, it can be a great way to allow employees to recharge at home while still completing assignments. You can always start with a one or two-day-a-week policy to see how your company functions while at home and then increase or decrease the allotment based on the performance metrics you are looking to hit.
Create fair workloads
An employee with an insurmountable workload feels like they're stuck in a hole they can't get out of. As a result, that employee leaves the company because it's the only way they feel they can stop the stress that accompanies an unreasonable workload. Creating a standard for fair workloads and safeguards to help those that are overloaded will ensure your employees feel they have options for when they need help getting things done on time.
Throw memorable company events
Giving your employees events to look forward to throughout the year can keep them motivated to get through the toughest days, but those events have to be worthwhile. The events you put on have to be things that your employees can brag about to their friends and entice more prospective employees to apply for jobs (probably not something you can whip together on a budget).
Things like box seats at a golfing event or a company-wide go-karting day will allow your employees to interact with their coworkers outside of the workplace while also reinforcing what your company is all about. Events like these will be something your employees talk about year after year and may even get them to forgive a few long days of work.
---
When it comes down to it, employee burnout is avoidable if the right steps are taken to quickly reduce prolonged stress and frustration throughout your organization. By doing things like creating a culture centered around wellness, creating fair workloads, and throwing awesome company events you can get your employees more excited about their jobs while reducing the causes of burnout. Use the tips above to reduce and prevent employee burnout at your company.
Fast Company Executive Board fosters a diverse community of decision makers, industry influencers, and thought leaders to offer you meaningful connections and discussions. Take a look at the Fast Company Executive Board blog to find other tips and advice for executives or learn more about the benefits of becoming a Fast Company Executive Board member by visiting our membership page or contacting us directly.