Innovation in Business: 5 Characteristics of an Innovative Company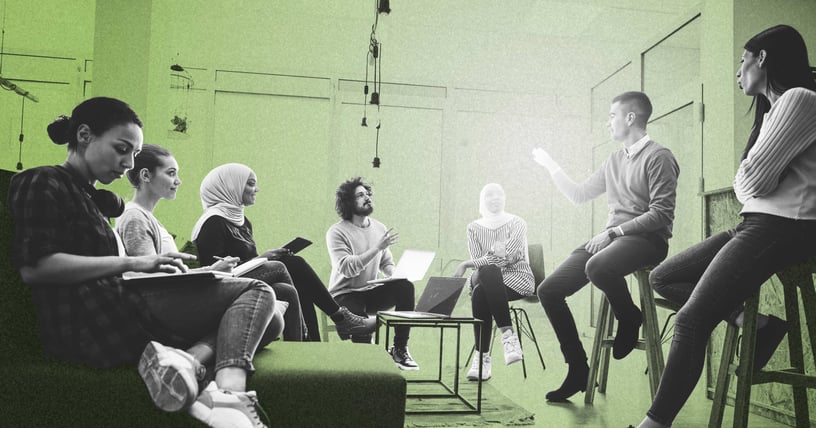 "We aren't (and never will be) immune to the relentless force and pace of change." — FCEB member Par Chadha 1
Business rides a constantly shifting wave of change. Law, technology, economics, and wild card events (like pandemics) perpetually change the rules. Visionary leaders steer their companies to ride that wave like champion surfers.
How do they do it? Constant business innovation.
What is Innovation in Business?
Innovative companies notice trends, analyze their impact, and pivot to accommodate them. They respond quickly to change and make forward-thinking choices. They identify new markets, find new uses for existing products and services, and develop new products and services to meet changing demands.
In this article, we'll consider the essential qualities that enable a company to innovate and create the future of business. Innovation requires a business to be:
Proactive
Iterative
Agile
Digital
Human-centric
What Are the Characteristics of an Innovative Business?
Innovative businesses are proactive
An innovative business is forward-thinking and proactive. This means significant time and energy are dedicated to long-term strategy work — that is, working "on" rather than "in" the business.
Using data analysis, forecasting, and vision, proactive leaders focus on what their business will need in the future, not just what it needs today.
Although there is always pressure on executives to show results right now, strategic planning is the only way to ensure profit and innovation over time. Resist the pressure to focus all your efforts on the right now. Invest in R&D. Foster relationships even when there is no immediate payoff. Conduct post-project debriefs to gain information that will help you plan next steps.
Too many business leaders succumb to a reactive business model, putting out fires as they arise. While no one can avoid problems entirely, it is far more efficient to use strategic planning and risk management to act as metaphorical sprinkler systems, preventing small fires from taking hold before they become conflagrations.
Innovative businesses are iterative
While it's always important to anticipate and mitigate risk, a forward-thinking company encourages experimentation and risk-taking. An innovative business is willing to reorganize, restructure, or rethink to best serve the forward motion of the organization.
As FCEB member Solomon Thimothy, president and founder of OneIMS, says, "We need more of those who are willing to challenge the status quo. Those who constantly push themselves to experience uniqueness and are willing to redefine what's been set as a limit."2
Two prime areas for iteration and experimentation: business model and internal procedures.
Creating an innovation-friendly business model
First, structure your business to make room for experimentation, failure, and reworking until you get a great result. No one gets everything right the first time.
This might mean:
Building extra time into project schedules
Conducting experiments to test one factor at a time
Recognizing that innovation and risk go hand in hand
De-stigmatizing failure
Fast Company Executive Board member Shannon Lucas, co-CEO of Catalyst Constellations, points out, "To innovate, you must get out of the habit of thinking solely about today and develop the capacity to plan for the day after tomorrow. If all you think about is in-year revenue, you will always be stuck in the past. You must shift your focus to future-proofing your organization."3
Employing Innovative Workplace Strategies
Willingness to iterate and experiment can also make a positive impact on internal practices and procedures.
Consider something as basic and almost universally problematic as getting employees to fill out timesheets. Would a different deadline help? What if you give your people until Tuesday, instead of Monday, to fill out last week's sheet? Or go in the opposite direction — require timesheets to be done by EoD Friday. It might be harder to forget if it's the last thing they do every week before heading out for the weekend.
How about flexible hiring practices, like using contractors or freelancers to fill out your roster and complement full-time staff? This brings in new blood to contribute ideas and fills in gaps needed for quick turnarounds or experimental projects.
And then there is the universal millstone around the neck of business leaders — meetings. FCEB member Shani Harmon, co-founder and CEO of Stop Meeting Like This, has built a whole company around the need for better meetings. One of the problems with meetings, she says, is lack of preparation. "When someone invests time in building a thoughtful and concise pre-read, for example, it enables everyone else to participate fully in the discussion because they have a shared starting point. Creating a first draft of a presentation or analysis, even if it's rough, accelerates the collaborators' ability to jump into the meat of the discussion."4
Have you taken a look at your procedures lately to see what's working and what isn't?
Innovative businesses are agile
No matter how much strategic planning you've done, there will always be wild cards to throw a wrench into your plans. (Pandemic, anyone?) It follows that it's wiser for a company to be focused on market needs and changes rather than one specific product, and to pivot quickly when those criteria change.
FCEB member Simone Ahuja, founder and CEO of Blood Orange, illustrates, "During the worst of the COVID-19 pandemic (and even as we continue to navigate it), many organizations were forced to operate completely differently and under severe constraints. Plenty of organizations floundered. But some adapted quickly. … Employees closest to the problems were asked how to solve them and encouraged to take action. They leveraged a collective passion and purpose, giving everyone involved extra energy to navigate the challenges that invariably occur when charting a new path—especially in large and complex organizations."5
Get in the habit of rethinking what you're doing and how you're doing it when circumstances change.
Innovative businesses are digital
A forward-thinking company embraces digital transformation. But it's not about having the shiniest technology; it's about finding the tools that move your innovative business forward. What works to make your specific business more efficient? What tools do your people need to do their best work? And how do you teach them to not just use, but embrace new tech?
FCEB member Melanie Fellay's company, Spekit, is all about helping employees overcome objections and hurdles related to digital transformation. Spekit allows team members to access tutorials and training as well as a knowledge base to keep their understanding of digital tools up to date. This tech addresses one of the biggest stumbling blocks for large enterprises attempting digital transformation — employee buy-in and training.
As Fast Company Executive Board member Sonita Lontoh, board director of Sunrun and TrueBlue, says, "Digital transformation is not only a technological transformation. More importantly, it is a cultural transformation that requires a company to transform its mindset, its muscle, its processes, and the way it fundamentally does business."6
Innovative businesses are human-centric
An innovative business needs motivated, creative people doing their best work. Leaders must find ways to keep employees engaged and communicate their value. Creating a supportive, human-centric workplace is key.
FCEB member Ron Gura recently wrote about building team loyalty: "To really support their workers, employers must do more to help them find balance between their work and their lives outside of the office. They need to understand the value of treating their employees as individuals, each with their unique needs, wants, interests, and lives … It's good for retention, it's good for productivity, and it's the right thing to do."7
Providing room for creativity, offering professional growth, and investing in diversity and inclusion are also effective ways to bolster a human-centric workplace.
Takeaway
To run an innovative business, it's crucial to intentionally infuse a company with the characteristics that support innovative work. Fast Company Executive Board members have found value in making their organizations proactive, iterative, agile, digital, and human-centric. Use the advice above to fertilize the ground of your company for your next future-shaping innovation.
Fast Company Executive Board is made up of passionate, successful executives making innovative strides in their respective industries. Read about some of them in our pieces on innovation in social good, innovation in technology, innovation in marketing, and visionary women.
Find out more about this invitation-only, professional network of company founders, executives, and leaders. Visit the Fast Company Executive Board membership page to see if you qualify, or contact us directly to learn more about becoming a member.
Resources/Further Reading
Books
Built to Last by Jim Collins and Jerry I. Porras
Creativity, Inc.: Overcoming the Unseen Forces That Stand in the Way of True Inspiration by Ed Catmull and Amy Wallace
Fail Fast, Learn Faster: Lessons in Data-Driven Leadership in an Age of Disruption, Big Data, and AI by Randy Bean
Go Long: Why Long-Term Thinking Is Your Best Short-Term Strategy by Dennis Carey et al.
The Innovator's Solution: Creating and Sustaining Successful Growth by Clayton M. Christensen
Articles
Fast Company Executive board members offer great advice in the articles quoted above. Links to the full articles can be found in each member's profile:
1 "If You Don't Prepare for Obsolescence, You Will Become Obsolete" by Par Chada
2 "Four Ways to Boost Your Creativity" by Solomon Thimothy
3 "How To Build a Culture of Innovation" by Shannon Lucas
4 "Better Meetings Alone Won't Solve Your Problem" by Shani Harmon
5 "Rethinking Constraints As a Catalyst for Innovation" by Simone Ahuja
6 "Customer-centric Innovation and Digital Transformation" by Sonita Lontoh
7 "To Retain Talent, Support Employees Through Their Hardest Times" by Ron Gura
TED Talks
"How Diversity Makes Teams More Innovative" with Rocío Lorenzo
"How Great Leaders Innovate Responsibly" with Ken Chenault
"How to Manage for Collective Creativity" with Linda Hill