Innovative Companies in Social Good: 6 Examples From Fast Company Executive Board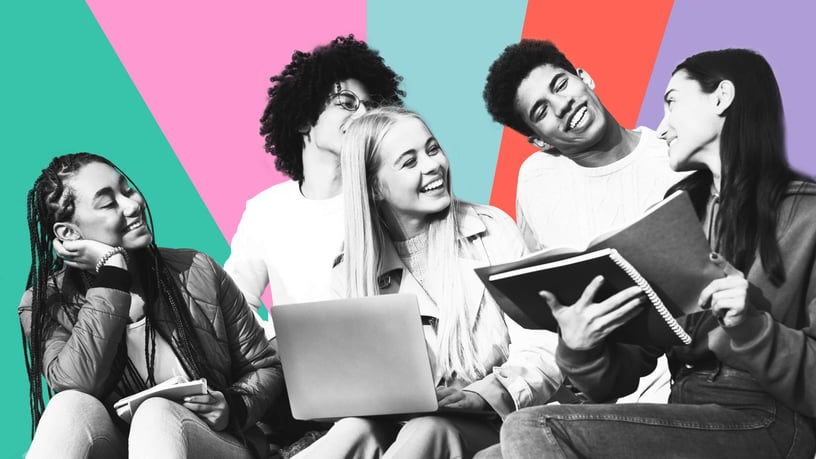 Business innovation is great for economic and business growth. Innovative ideas lead to research and development; companies make money and individuals develop improved products and services that society can use.
But some innovative companies take things a step farther, and encourage innovation specifically for social good. Their companies are focused on more than making money. This type of innovation is important for the well-being of individuals and communities.
In this post, we'll look at what a few business leaders in Fast Company Executive Board are doing in the social good sector. From suicide prevention to impact investment, helping students get scholarships to making social services more accessible, and supporting founders of color, these members have developed business strategies to make the world a better, more equitable, more inclusive place.
LGBTQ Suicide Prevention: The Trevor Project
Fast Company Executive Board member Amit Paley is CEO of The Trevor Project, the world's largest suicide prevention and crisis intervention organization for LGBTQ young people.
LGBTQ youth are four times more likely to attempt suicide. The Trevor project aims to change that, offering crisis intervention via chat, call, or text. In addition, a resource center provides information and support for sexual orientation, gender identity, coming out, becoming an ally, and more. And Trevorspace, a dedicated social networking site, allows LGBTQ young people to connect and converse in a safe space, sharing struggles and triumphs.
Paley has a distinguished background as a Pulizer-nominated reporter for The Washington Post, a partner at global consulting firm McKinsey & Company, and a magna cum laude graduate of Harvard College. He began his work with The Trevor Project as a volunteer counselor, and has personally answered hundreds of calls for help. He is the first volunteer counselor to become CEO, and under his leadership, the organization has expanded its research and outreach in several ways, including increasing chat and text support to its current 24/7 schedule.
Paley and The Trevor Project are innovating to create a more inclusive, welcoming, and safe world through crisis intervention, peer support, research, public education, and advocacy.
Impact Investment: Mission Driven Finance
Fast Company Executive Board member Melissa Barash is chief of staff for Mission Driven Finance, a "private impact investment firm working to close capital gaps in order to close opportunity gaps."
According to GIIN (Global Impact Investing Network), "Impact investments are investments made with the intention to generate positive, measurable social and environmental impact alongside a financial return." Mission Driven Finance, a certified B corp, was built "to make it easy to invest in your community." The organization lends to small businesses, social enterprises, and nonprofits, "mobilizing capital that will increase inclusive and equitable access to education, health, and wealth."
By funding projects like Freedom for Immigrants and Habitat for Humanity, Barash and Mission Driven Finance are working toward a more equitable economy.
College Scholarship Accessibility: Scholly
Fast Company Executive Board member Christopher Gray is CEO of Scholly, an app that helps students pay for college and graduates pay off their student debt. Gray founded Scholly after his own months-long struggle with finding and applying for scholarships to fund his own education.
According to Sallie Mae, 25% of college expenses are paid by scholarships and grants. Gray created the innovative app to make it easier for students to find and apply for the scholarships that allow them to pay for their education. An appearance on Shark Tank kick-started Scholly's success, and it has now helped students win more than $100 million dollars in scholarships.
By collecting scholarship opportunities into an easy-to-handle app, Scholly allows students who may not have extensive resources in their homes or schools to find and access the funds they need to pay for college educations.
Social Services Accessibility: mRelief
Fast Company Executive Board member Rose Afriyie is the co-founder of mRelief, a nonprofit helping people access social services like rental assistance and food stamps with dignity. Applying for these services can normally be a daunting task, given 20-page applications, interviews, and additional documentation.
Now, mRelief's innovative app presents a simple screener that can be completed via web, text messaging or voice. If the screener detects eligibility, the app then directs the family to the most efficient way to apply for services.
With these innovative efforts, Afriyie and mRelief are empowering families to get the services they need without being mired in paperwork and red tape.
Supporting Founders of Color: The Black Upstart and Black Innovation Alliance
Fast Company Executive Board member Kezia Williams is CEO of The Black upStart, which trains early-stage African-American entrepreneurs interested in starting job-creating, bankable small businesses.
With Skillhouse U, a traveling popup school, the company offers courses in managing money, monetizing skills, and beginner investing. Meanwhile, Black upStart Bootcamps serve "African Americans who have not yet started a business but have a great idea" and "African Americans who have started a business that grosses less than $50,000 in revenue." Each cohort receives crowdfunding training, personal coaching, landing page development, and more.
Another leader in supporting founders of color, Fast Company Executive Board member Kelly Burton is executive director of the Black Innovation Alliance, a national coalition of ecosystem leaders dedicated to increasing Black access to the innovation economy. She's also CEO of Founders of Color, an online platform connecting minority entrepreneurs with high-growth potential to the information, relationships and opportunities they need to scale quickly.
The Black upStart and the Black Innovation Alliance are making strong strides toward increasing the number and success of Black-owned businesses, creating a more equitable future for business in the U.S.
Takeaway
These are just a few of the Fast Company Executive Board business leaders working passionately to create a more equitable and inclusive world. Their companies are changing the world for the better, each in its own way.
Fast Company Executive Board fosters a diverse community of decision makers, industry influencers, and thought leaders to offer you meaningful connections and discussions. Take a look at the Fast Company Executive Board blog to find other tips and advice for executives or learn more about the benefits of becoming a Fast Company Executive Board member by visiting our membership page or contacting us directly.