6 Visionary Women of Fast Company Executive Board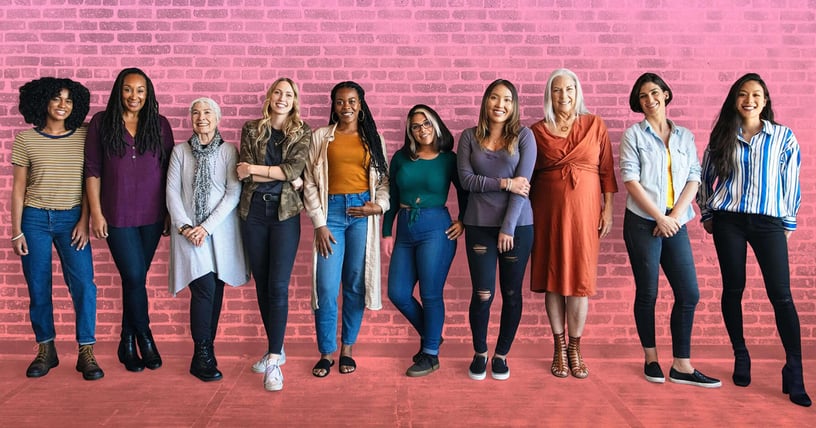 In a fascinating TED talk about gender roles, Reshma Saujani, founder of Girls Who Code, raised an important point. In the U.S. (and many other cultures), we teach boys to be brave, but we teach girls to be safe. We teach boys to play rough, but teach girls to play nicely. Over time, this means boys learn to take risks, and girls learn to avoid failure.
But our corporate and business culture rewards innovation and vision. Visionary leaders need to take risks. So, long story short, leadership roles tend to go to men.
Luckily, women are increasingly breaking through the status quo. They are up for the challenges of visionary leadership. They develop emotionally intelligent leadership styles that work for them and for their team members. They take risks, innovate, and bring their visions to life.
In this post, we'll explore the work of several of the visionary women who make up Fast Company Executive Board. Their work in arts, sciences, and business reflects their visions for a better world, and inspires others to take up the mantle.
Monty Preston, Creative Director, The Other Avatars
A few years ago, an online art gallery like Saatchi Art was an innovative idea. Now, Fast Company Executive Board member Monty Preston is taking online art one step further with The Other Avatars, a Saatchi Art project curating one-of-a-kind NFTs (non-fungible tokens).
Over 150 emerging artists from 35 countries have created original NFTs based on the self-portraits of Vincent Van Gogh. The art styles are as varied as the artists themselves. Some are recognizable as Van Gogh; some as the artists who created the NFT. Some are animated; some resemble oil paintings or pencil sketches; others are a unique combination of cartoon and impressionism.
Preston's background as an artist and photographer, and previous work in the fashion and fine art industries, have contributed to the perspective and insight she brings to curating this unique project. Her vision for The Other Avatars is supporting the work of emerging artists, helping collectors find art they love, and introducing art collecting to a wider audience.
Ailis Tweed-Kent, CEO, Cocoon Biotech
Fast Company Executive Board member Ailis Tweed-Kent is a medical doctor with a degree in chemical engineering. Dr. Tweed-Kent's vision — to develop silk as a sustainable medical material — came to her as she worked with patients for a decade as a doctor at Massachusetts General Hospital. Now, as CEO of Cocoon, she works with research scientists to find sustainable, safe, eco-friendly uses for silk in health sciences.
Cocoon uses silk fibroin as the basis for protective skin products like sunscreen, moisturizing lotion, anti-aging serum, insect repellant, and hand sanitizer. In addition, Cocoon creates healthcare products like ocular drops, surgical gels, coatings, drug delivery formulations, and cell growth media. Finally, the company's silk fibroin can be used as a replacement for certain harmful petroleum products in industrial processes like coating glasses and surgical instruments.
Alicia Chong Rodriguez, CEO, Bloomer Tech
Another innovator in medical science, Fast Company Executive Board member Alicia Chong Rodriguez's vision is to solve major women's global health issues. Bloomer Tech is doing just that, starting with cardiovascular disease.
Women's health issues are often misdiagnosed, and Rodriguez means to change that. Using advanced fabrics with biometric sensors, Bloomer Tech enables the collection of meaningful data to inform medical diagnoses and feedback. A woman's bra, for example, becomes a smart bra that can read electrocardiograms, pulse rate, respiratory rate, and heart rhythm, and provide that data to users and doctors.
This data will be essential for closing the gender gap in cardiovascular research and helping medical professionals better serve women.
Leigh Burgess, CEO and founder, Bold Industries Group
Fast Company Executive Board member Leigh Burgess is the CEO and founder of Bold Industries Group, the parent company for several ventures. They are High Road Strategy (healthcare, education, and business services); The Desig9ned Studio (interior and exterior design); JB Bold Construction (construction and renovations); and Bold Brews and 'Que (microbrewery and BBQ sauces). It might seem that these have nothing in common, but Burgess's passions for business, home design, and curated experiences are all connected.
According to her website, Burgess is "driven by tackling challenges that when solved, make the world a better place, and helping leaders solve problems for good."
Burgess embraces "big swings of bold" in all endeavors. Her vision of boldness is "taking a chance on success, joy, and improvement even when it feels uneasy or uncertain." It is this approach that has allowed her to create complementary businesses in multiple interesting fields.
Gayatri Keskar, VP of Research, Material ConneXion
Nothing says innovation like research, and Fast Company Executive Board member Gayatri Keskar is the VP of research for Material ConneXion, a materials library and consultancy.
Material ConneXion serves to "demystify material science – helping you find material solutions you can use immediately and identifying materials that meet your performance, budget, and sustainability objectives." What kind of materials? Everything from "powders and coatings, to fibers and textiles, and 3D filaments to in-mold technology."
Keskar's visionary work in material innovation and sustainability has led to her holding numerous patents for materials used in smart technologies and consumer products.
Ashley Sharp, Executive Director, Dwell with Dignity
Fast Company Executive Board member Ashley Sharp envisions soothing, inspiring homes for families facing homelessness or poverty. As executive director of nonprofit organization Dwell With Dignity, she makes it happen with the help of a team of interior designers and volunteers.
Dwell With Dignity designs and installs furnishings and art, as well as necessities like food, to create safe, functional, and serene surroundings for those who need them. The mission is to change people's outlook on life, decrease stress, and add inspiration for children who will, ideally, carry a higher standard of living into the next generation.
Sharp has another vision, too — one that is likely shared by all women trying to make a difference in business. In a recent article, she wrote, "Ultimately, it's clear that despite real progress, in many places a deeply misogynistic corporate culture persists today. That's why it's incumbent upon us to keep fighting for a workplace that's entirely free of misogyny and gender discrimination."
Takeaway
The visionary women featured here, and many others in innovative businesses, are breaking the mold, throwing centuries of sit-still-look-pretty training aside to change the big picture and share their gifts with the world. Many of their businesses have common threads — sustainability, problem-solving, and hope for a better world.
Are you an executive interested in connecting with the visionary women of Fast Company Executive Board? Bring your vision to the community; learn more about the benefits of becoming a Fast Company Executive Board member by visiting our membership page or contacting us directly.