Best Books on Visionary Leadership for Change Makers in Innovative Companies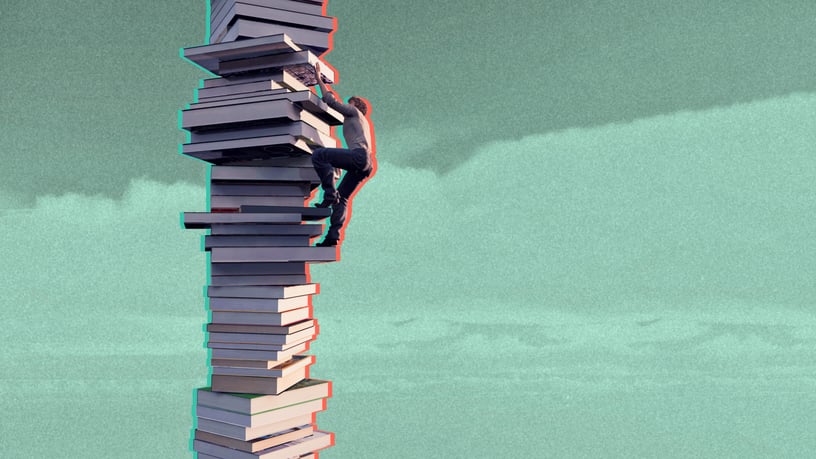 "Just because you are CEO, don't think you have landed. You must continually increase your learning, the way you think, and the way you approach the organization. I've never forgotten that." — Indra Nooyi, former CEO, PepsiCo, in Fast Company
CEOs and senior leaders of innovative companies have a responsibility to keep learning, feeding their minds, and moving forward. Options abound: innovation leadership training, coaching for executives, and perhaps the easiest one to fit into day-to-day life: great leadership books.
Pick up some of the best books on visionary leadership and change-making leaders to gain perspective and wake up your brain to possibilities.
Passionate Leadership Techniques for Inspiring the Troops
One of the key responsibilities of a visionary leader is rallying the team around the big picture. Here are some great reads on the visionary role in leadership and how brilliant leaders find success.
Start with Why: How Great Leaders Inspire Everyone To Take Action by Simon Sinek
Simon Sinek's landmark book, the basis for the TED talk of the same name (56 million views and counting), describes the big idea that great leaders  — the ones who influence really big things  — have a method in common. From Martin Luther King Jr. to Steve Jobs to the Wright Brothers, all have focused on a "why" — a raison d'etre — for an effort, before moving on to the nitty-gritty of what they'd do and how they'd do it.
Spark: How to Lead Yourself and Others to Greater Success by Angie Morgan, Courtney Lynch, and Sean Lynch
Three military veterans turned business consultants offer this guide to leaders who want to become a catalyst for change. Sparks are defined as "doers, thinkers, innovators, and key influencers who are catalysts for personal and organizational change." This book is a guide to "igniting" sparks, setting off a chain of innovation in a business.
The Innovator's Dilemma by Clayton M. Christensen
An alarming idea: intelligent management can be the bane of innovation. This book has been a huge success, but also questioned relentlessly, because its premise is unorthodox. The main argument is that big businesses can stagnate because of, not in spite of, their many safeguards against failure. Keeping a business running smoothly is not necessarily conducive to innovation; visionary leaders must embrace some amount of chaos to make room for the new.
Driving Innovation from Within: A Guide for Internal Entrepreneurs by Kaihan Krippendorff This title focuses on world-changing developments like the mobile phone and personal computer, which were conceived and developed by "employee innovators" within existing organizations. This book includes interviews with dozens of intrapreneurs and a step-by-step plan for creating conditions that allow for change from within.
Herding Tigers: Be the Leader That Creative People Need by Todd Henry
If the innovations in your company are being driven by creative workers like writers, programmers, or designers, this book might be of interest. It delineates the type of culture and leadership creatives need to do their best work and produce results for you.
Originals: How Non-Conformists Move the World by Adam Grant
If you're persistently inspired to go against the grain, Originals might be the book for you. [It covers] avoiding groupthink, recognizing good ideas, advocating for them without being silenced, and making positive change. After all, outdated traditions and "the way things have always been done" are the enemies of innovation.
Innovative Leadership Style: Memoirs and Biographies
When learning to be a better executive, why not examine the lives and work of masters of the craft? The following books are good examples of books about specific leaders that offer insight into their vision, values, and successes.
Ride of a Lifetime: Lessons Learned from 15 Years as CEO of the Walt Disney Company by Robert Iger
Bob Iger, who served as CEO of Disney from 2005 till 2021, and is picking up again after Bob Chapek was let go recently, shares his journey as CEO of what is perhaps the most well-known entertainment brand in the world. He relates the principles that allowed Disney to quintuple in value under his leadership, including optimism, courage, decisiveness, and fairness.
Creativity, Inc. by Ed Catmull, creator of Pixar.
Catmull's relentless determination to let creativity thrive as he built Pixar into an entertainment giant is inspiring and refreshing. This book describes his goals and how he created empowering management techniques to fit them, with outstanding results.
Shoe Dog by Phil Knight (creator of Nike)
Knight started selling imported Japanese running shoes from the trunk of his car in 1963. With a vision based on the "transformative power of sports," and through a series of struggles, triumphs, and strong relationships, he built Nike into a multi-billion-dollar business.
Shackleton's Way: Leadership Lessons from the Great Antarctic Explorer by Margot Morrell, Stephanie Capparell, et al.
Antarctic explorer Sir Ernest Shackleton led his team to places no one had gone before — and experienced crisis. His ship and all twenty-seven men aboard were stranded in the ice for two years, but thanks to his leadership and crisis management, they survived. When facing a difficult time, any leader can benefit from Shackleton's example of persistence and resilience.
Thrive: The Third Metric to Redefining Success and Creating a Life of Well-Being, Wisdom, and Wonder by Ariana Huffington
Part memoir, part how-to by the cofounder and editor-in-chief of the Huffington Post Media Group, Thrive offers a disruptive perspective on success. Huffington argues that the pursuit of money and power to the exclusion of " our well-being, our ability to draw on our intuition and inner wisdom, our sense of wonder, and our capacity for compassion and giving" is killing us. Huffington proposes mindfulness, meditation, unplugging, and giving as ways to create a new plan for success.
Wolfpack: How to Come Together, Unleash Our Power, and Change the Game by Abby Wambach
Two-time Olympic gold medalist and FIFA World Cup champion Abby Wambach presents a rallying cry for women to step out, step up, support one another, and make change. She points out that women have always had to find themselves in a world created by and for men, and that it is time to change the game at home, in business, and in society.
Takeaway
When you search out the best books on visionary leadership, you will find many, many more worthy of your time. The examples above focus on change makers and innovators, and will be a strong start for any leadership library.
Want more ideas? Browse the Fast Company Executive Board blog to find other tips and advice for executives, or learn more about the benefits of becoming a Fast Company Executive Board member by visiting our membership page or contacting us directly.