Visionary Leadership Style: How To Communicate Your Vision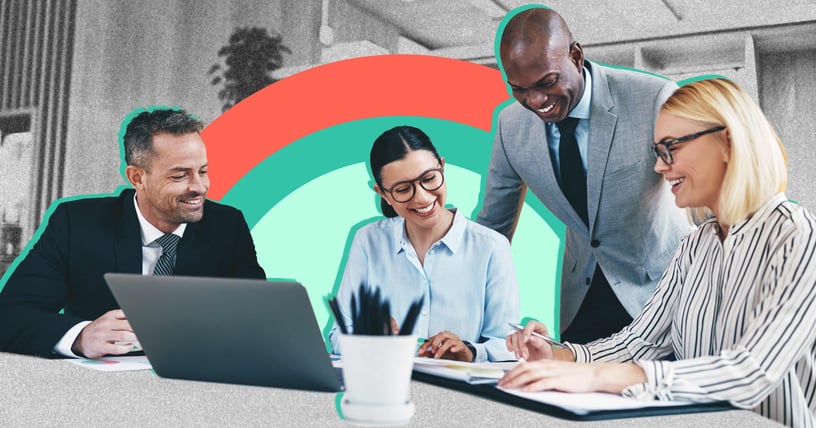 Visionary leaders not only know what the future should look like; they are committed to communicating that vision to their teams internally and reflecting it externally.
Internally, a visionary leader ensures that their plan and perspective permeate the company culture, mission statement, and KPIs. Externally, through executive thought leadership, social media, and marketing, they make the vision central to the business's brand identity so that it draws the attention of potential investors, employees, and customers.
What tools can you use to accomplish these goals? Here are some recommendations from Fast Company Executive Board's successful enterprise leaders.
Visionary Companies Have Vision Statements
To express your vision, both internally and externally, it can be helpful to create a formal vision statement. This is not the same as a mission statement, although the two are often confused. A mission statement explains why a company or movement exists, while a vision statement expresses where it is going — what you hope to accomplish.
Here are some examples of mission statements and vision statements to help cement the difference in your mind (and to inspire you as you plan your own)!
Fast Company Executive Board member Brendan P. Keegan points out one of the most important characteristics of a vision statement is an emotional core that people will relate to and remember. He says, "Brevity, purpose, and everyday language are all foundational for making a vision statement easy to remember. But think about the emotions you're evoking along the way, too—people connect with brands based on feelings more than anything."
Visionary Leaders Communicate in an Engaging Style
Your communication style is important. Most people who are eventually recognized as visionary leaders come to the attention of the wider community because they are charismatic, persuasive, and inspiring.
You can achieve this style by:
Using positive language and an enthusiastic tone
Convey your passion and commitment by choosing confident, affirmative words. Fast Company Executive Board member Brig Sorber says, "Regardless of your communication style, leaders who can clearly communicate their vision and goals create a sense of direction for their team. And this means being aware not just of what you're saying but how you're saying it. If someone tells you that you came across in a negative way, trust them and adapt your style. Remember, someone's impression of how you communicated is the reality, regardless of whether or not it was your intent."
Telling relatable stories
"Stories give us something to sink our teeth into, believe in, and get emotional about. That is what you want to reveal in your brand rollout. Find your brand story, and use it as a keystone in your brand reveal. When you lead with a story, everything else will make sense," says Fast Company Executive Board member Bill Kenney.
Presenting strong calls to action
Sharing your vision with your team, or even with customers, only matters if they take action to further it. In-house, you can create KPIs that delineate concrete steps toward goals. With customers, convincing them to take small steps like signing up for a newsletter can eventually lead to a sale.
If communication is something you struggle with, try leadership coaching for CEOs to polish your skill, or join a successful executive community in which you can learn from others. Your team can't bring your vision to life if it isn't clear.
Visionary Leaders Use Strategic Management
One key to communicating your vision within a large company is starting with leaders and managers.
Why?
Research shows that the positive effects of a visionary leadership style break down if middle managers aren't aligned with top management's vision. On the other hand, if managers are on board, they can be instrumental in spreading the vision throughout the organization and fostering it as it touches their projects.
As Fast Company Executive Board member Brandon Pena says, "Work one-on-one with your leaders. Ask them what they've been seeing, if there's anything they need support with. … Taking the time to make sure you are on the same page as your leaders will always be helpful to a company. It gives us the opportunity to discuss, change, and impact without anyone feeling left out or unsupported. If I support my leaders, they will support their teams."
Even as you share your vision with the goal of buy-in across your organization, it's important to listen to feedback. Fast Company Executive Board member Tim Foot says, "Don't ostracize and run off the people who speak the hard truth. Create a process that invites them to speak and requires you to listen. Otherwise, you'll find yourself in an echo chamber full of confirmation bias that shuts out those who are meant to point your organization in the direction it needs to go."
Peers who listen respectfully and offer constructive input are an important part of your innovator network. Work with them to develop the best strategies, and they will be not just willing, but eager to help bring your shared vision to life.
Innovative Businesses Convey Vision in Every Customer Interaction
As mentioned above, telling a relatable, clear story is essential for communicating to any audience. Fast Company Executive Board member Joyce Kim points out that any interaction with a customer is a chance to tell that story. "Whether a customer touchpoint comes from marketing, sales, or service, that experience should be consistent across the board and deliver on your brand promise."
Likewise, Fast Company Executive Board member Anna Bager says, "Take advantage of every opportunity to tell your brand story. Surround people with it, tease them, delight them—encourage them to follow you across channels. Recognize that those things we see in our environment and appreciate in the moment are just as important as the digital messages that are pushed out hoping to gain ground."
Takeaway
Your vision should shape everything you do, everything you ask your team to do, and every message you send to the world. Make sure you communicate it clearly. Start with a vision statement. Be sure to use an engaging, positive tone and vocabulary. Engage in strategic management to get your in-house leaders on board. And finally, inculcate your audience with a clear brand story across channels.
Fast Company Executive Board Builds Communication Skills
Fast Company Executive Board members share their knowledge of innovation, communication, and more in this invitation-only community for enterprise executives. In-house editors help members craft executive thought leadership articles so that the messages they send are clear expressions of their visions. Visit the Fast Company Executive Board membership page or contact us directly to learn more about becoming a member.
RESOURCES
Fast Company Executive board members offer great advice in the articles quoted above. Links to the full articles can be found in each member's profile:
"The Do's and Don'ts of Creating Your Company Vision" by Brendan P. Keegan
"Don't Be a Jerk: A Leader's Guide to Emotional Intelligence" by Brig Sorber
"Revealing Your New Brand: How To Do It Right" by Bill Kenney
"Eight Skills Every Leader Should Master in 2022" by Brandon Pena
"3 Lessons From 'Encanto' on Leadership Transitions" by Tim Foot
"The Customer Experience Has Gone Digital" by Joyce Kim
"How To Wrap An Audience In Your Brand Experience" by Anna Bager